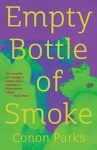 Publisher: Brave Dog Dead Dog Art Works
Buy the book now at:

Amazon
In an effort to escape his shadowed past, work-a-day dweeb, Walter Curmudgeon flees from Portland to Seattle where he carefully inserts himself into the anonymous corporate shield of Seattle's financial district. But, like the U.S. Mail service, former transgressions have a way of ferreting out their target, and Walter's latest load of junk mail drives home the message that his safe haven has been breached. Wedged in between lottery scams, Ponzi-style chain letters and Soviet sex enhancement ads is the first of several warnings that "payback" is both brutal and inevitable.
Once again in the role of the hunted man, Walter runs underground – straight into the bosom of the Manifesto Party, a disorganized band of anti-establishment types bound by the common ethos of "Free Guns and Dope." Housed in a crumbling historic building, the Manifesto Headquarters shares space with the infamous "Museum of Indecision and Hysteria and WE B Art Gallery." It's in this pit of diverse artistic detritus that Walter hooks up with Mac, a PTSD Vietnam vet whose "combat oriented" neural wiring makes him a perfect ambassador for the disorganized band of Seattle underground n'er-do-wells.
Mac's inherent paranoia sucks Walter further into his own web of altered reality. And Mac's Mao-cum-Baader-Mienhoff world view, backed-up by his "always carry violence in your back pocket" mantra, make for a wicked ride as the two jump into the chaotic build-up of Seattle's cataclysmic World Trade Organization meetings.
In a stream-of-consciousness prose style reminiscent of Ginsberg's howling, debut author Conon Parks pulls the reader into the world of the collective disenfranchised, albeit one with an absurdist twist. And with a clever sleight of hand the author guides his seemingly inconsequential hero, Walter "everyman," through a world of madness on a quest for life's meaning.
An Empty Bottle of Smoke is a witty, jumbled mash-up of anarchist philosophies and pub trivia in which the disparate threads of culture swirl in a literary vertigo.  It's "Trainspotting" meets "Brazil" in this darkly comic romp that takes its hero from de Tocqueville's "nanny state" to full-blown anarchy and reminds the reader "we really only have the rights we can defend."