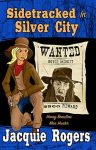 Publisher: Camp Rogers Press (2016)
Buy the book now at:

Amazon
Author's Website
Stuffed with memorable characters, including a mule named Pickles and a donkey named Sassy, our heroine Honey Beaulieu navigates the difficult path of being a female bounty hunter in the Western territories, circa mid-1879.
As one might expect, all kinds of men get in Honey's way, but it isn't just Pickles who can show a stubborn streak. Jacquie Rogers' newest release, Sidetracked in Silver City, is as full of humor and colorful western dialogue as any saddle bruising, gun-toting tale could be.
The story begins in crisis and with a familiar sense of frustration, as Honey Beaulieu, intent on leaving town as soon as possible and catching her next bounty, is confronted with problem after problem rooting her in place. Rogers is talented in keeping the dialogue moving, even as Honey is often lost in her own thoughts or speaking to a ghost that only she can see, named Roscoe who hangs out with a with a three-legged ghost horse named Luther, naturally.
Honey's big heart is on every page as she strives to make enough money to buy a future for herself and others. Talking to her animal companions as if they are humans isn't all that peculiar for Honey – especially when a racing mule, a bonnet-wearing donkey, a surprise goat, and more than one horse all seem to understand. And while carrying multiple guns and knowing darn well how to shoot them builds the tough outer layer the world sees when they look upon Honey, her aim is to never have to use them. It takes her big, handsome admirer, Sam Lancaster, to see that soft inside of her soul.
From Silver City to Fry Pan Gulch, Honey wrestles with being in the right place at the right time, whether it's missing the morning train or being there in time to hold her sister's hand when she gives birth. For anyone who has ever fought the clock and lost the battle, Honey's exasperation is palpable. We want her to "get her man" no matter what it takes, and Rogers is quite good at building the dramatic tension with the many characters that both complicate Honey's plans and endear us to her in this wild, wild west she calls home.