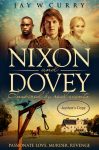 Publisher: John Cutten Publishers (2014)
Buy the book now at:

Amazon
Author's Website
Launch into a gun-slinging, horse racing, antebellum southern historical biographically-based novel in this larger than life surprise, Nixon and Dovey: The Legend Returns.
Imagine searching through the local archives in hopes of discovering a long-lost ancestor only to stumble upon a memoir written about the early days of the area in which this ancestor lived. And another find – an article about the ancestor that has alluded you for so long surfaces. As you read it, however, your stomach turns. The ancestor you have sought for so long turns out to be the most notorious murderer and villain of the day. In this page-turner, Jay Curry tells the story of his ancestor, Nixon Curry, and his sad end.
Curry opens his tale at the very beginning: Nixon learns to shoot and ride as a youngster and finds he's quite good at it. In fact, he loves riding so much his one desire is to open a stable and breed thoroughbreds – just like the rich people in his town. Unfortunately, Nixon is not rich, nearly unforgivable in the antebellum south. And Nixon, much to the dismay of his father, has a temper.
He may have been able to climb his way out of the first tragic situation, by, perhaps winning the Governor's Cup, the big horse race of the day. But the second, his volcanic disposition, he will never be able to escape. Now Jay Curry's ancestor must come to grips with the fact that dreams don't always come true and life doesn't always go according to plan.
At its heart, though, this book is a love story. Nixon falls in love with a senator's daughter, Dovey Caldwell. Unfortunately for the ill-fated lovers, her daddy has already set her up with Nixon's arch rival and wealthy Southern son. Much like the sorry tales of love-struck couples of yore, the youngsters run off together and cause all sorts of consternation.
Nixon and Dovey: The Legend Returns is a heart-pounding, page-turning read straight from the pages of an 1800's diary and family lore of author, Jay Curry.