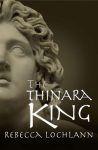 Publisher: Erinyes Press (2012)
Buy the book now at:

Amazon
Author's Website
There's only sorrow for Aridela, the heiress to the throne of Kapthor when she learns her heart is not hers to give freely and every decision she makes concerning her love life brings about dire consequences for her people in Rebecca Lochlann's The Thinara King, Book 2 of The Child of the Erinyes series.
When Aridela meets Chrysaleon, a Greek "barbarian" by the standards of her people, she falls in love. Chrysaleon, young, bold and brash, is as smitten with Aridela as she is with him, but he has been promised in marriage to her sister Iphiboë, who is bland and boring by comparison.
The marriage is all important, though, as it will consolidate his father's power, linking his lineage with that of the Aridela's culture, a culture that reveres the power and station of women. Kapthor is ruled by Aridela's mother Queen Helice and guided by the powerful female oracle Themiste.
Aridela and Chrysaleon cannot help but consummate their forbidden love, yet as they do, a volcano erupts, devastating the island and killing many of Aridela's relatives and friends. The volcano, seen as goddess Athene's handiwork, is blamed on Chrysaleon, who has been identified by Themiste as the "lion" or the Thinara King, foretold in an ancient prophecy linking him to Aridela and a mysterious, unidentified bull figure. The prophecy states that this triad has the power to restore or destroy the world.
Rebecca Lochlann skillfully immerses the reader in a semi-fictional world of ancient rites and conflicts where characters live, die, and are reborn throughout her series The Child of the Erinyes.
The product of many years of study and fascination with the era and the mythology, The Thinara King establishes Lochlann's connection with the novel's setting and genre by smoothly combining many convincing elements: the handsome hero determined to win the strong-minded fair lady, the dark anti-hero plotting on the sidelines, the wise demi-goddess who keeps her own counsel and manipulates outcomes behind the scenes, the grisly battles fought at close range, and the spectacular festivals marking the passing of the years.
Lochlann's over-arching narrative, switching from character to character, is deftly composed, making for many surprises without deviating from the backdrop with its elaborate history-rich trappings.
A tale of ancient kingdoms, of love promised and lost, heralded victory and hopeless defeat is the second novel in her much-acclaimed series, The Child of the Erinyes – another masterfully written historical fiction novel of Ancient Greece from Rebecca Lochlann.