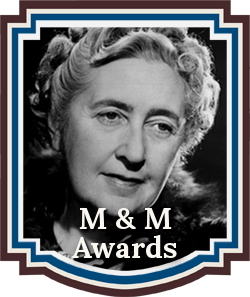 The Mystery & Mayhem Awards writing competition recognizes emerging new talent and outstanding works in the genre of  Cozy Mysteries and Not-So-Cozy Mysteries. The Mystery & Mayhem Awards is a division of the Chanticleer Awards International Writing Competitions.
We are honored to announce the 2016  M&M Awards Official First Place Category Winners.
Humorous: Hot Scheming Mess by Lucy Carol
Romantic Suspense: Secrets Revealed by Kate Vale
Amateur Sleuth: Engaged in Danger: A Jamie Quinn Mystery by Barbara Venkataraman
Blended Genre: A Girl Like You: A Henrietta and Inspector Howard Novel (The Henrietta and Inspector Howard series) by Michelle Cox
Historical Mystery: The Secret Life of Anna Blanc by Jennifer Kincheloe
Women Sleuths: The Body Next Door by Gay Yellen
Classic/British Cozy: Under an English Heaven by Alice K. Boatwright
The Mystery & Mayhem Short-Listers competed for these First Place Category positions. They authors and their works were recognized at the Chanticleer Authors Conference and Awards Gala, Bellingham, Wash. that was held on April 1, 2017.
CONGRATULATIONS to  Alice K. Boatwright, author of the MYSTERY & MAYHEM Grand Prize winner — Under an English Heaven!
We are now accepting entries into the 2017  M&M Awards. The deadline is April 30, 2017.  Click here for more information or to enter.
Congratulations to those who made the M&M AWARDS 2016 FINALISTS and SHORTLISTERS.
More than $30,000 worth of cash and prizes will be awarded to the 2017 Chanticleer Novel Writing Competition winners! Fifteen different genres to enter your novels and compete on an international level.