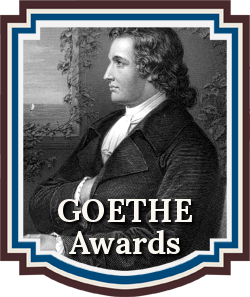 The Goethe Awards writing competition recognizes emerging new talent and outstanding works in the genre of post-1750s Historical Fiction. The GOETHE Awards is a division of the Chanticleer Awards International Writing Competitions.
 Congratulations to the 2016 Goethe Awards First In Category Award Winning Historical Fiction Novels:
Women's Historical: A Seeping Wound by Darryl Wimberley
Manuscript World Wars and Other Wars: In Their Finest Hour by Duncan Stewart
North American Turn of the Century: The Depth of Beauty by A.B. Michaels
World Wars: The Jøssing Affair by J.L. Oakley
Regency, Victoria, 1700s/1800s: A Woman of Note by Carol M. Cram
British/Europe Turn of the Century: Silent Meridian by Elizabeth Crowens
Historical Fiction Manuscript: Running Before the Wind by Carrie Kwiatkowski
20th Century: The Boat House Cafe by Linda Cardillo
These award winning authors and their titles have competed for the 2016 Goethe Grand Prize for Post-1750s Historical Fiction.
CONGRATULATIONS to  J.L. Oakley, author of the GOETHE GRAND PRIZE winner — The Jossing Affair!
More than $30,000 dollars in cash and prizes are awarded to Chanticleer International Blue Ribbon Awards Winners annually.
The Goethe First Place  Category award winners will compete for the Goethe  Grand Prize Award for the 2016 Historical Fiction Novel. Grand Prize winners, blue ribbons, and prizes were announced and awarded on April 1, 2017 at the Chanticleer Authors Conference and Awards Gala, Bellingham, Wash.
We are now accepting entries into the 2017 Goethe Awards. The deadline is June 30, 2017.  Click here for more information or to enter.
Congratulations to those who made the Goethe Awards 2016 FINALISTS and SHORTLISTERS Official listings.
More than $30,000 worth of cash and prizes will be awarded to the 2018 Chanticleer Novel Writing Competition winners! Fifteen different genres to enter your novels and compete on an international level.