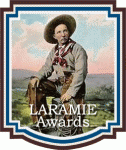 The Laramie Awards writing competition recognizes emerging new talent and outstanding works in the genre of  Western Fiction. The LARAMIE Awards is a division of the Chanticleer Awards International Writing Competitions.
Congratulations to the 2016 Laramie Awards First In Category Award Winning Western Fiction authors and their novels!
Western Romance: Seize the Flame by Lynda J Cox
Prairie/First Nation: Big Horse Woman by Barbara Salvatore
Classic Western (Manuscript): Clevenger Gold: The True Story of Murder and Unfound Treasure by Scott Eldon Swapp
Contemporary Westerns: Improbable Fortunes by Jeffrey Price
Civil War: Lincoln's Hat by David Selcer
Adventure/Caper: Hot Work in Fry Pan Gulch (Honey Beaulieu – Man Hunter) by Jacquie Rogers
CONGRATULATIONS to  Jacquie Rogers, author of the LARAMIE GRAND PRIZE winner — Hot Work in Fry Pan Gulch!
The 2016 LARAMIE Short Listers competed for these First Place Category Positions. These First Place Category Award Winners' works have competed for the LARAMIE Grand Prize Award for the 2016 Western Fiction Novel. These winners were announced and recognized at the annual Chanticleer Authors Conference and Awards Gala, Bellingham, Wash., on April 1st, 2017.
The First In Category award winning titles will receive an award package including a complimentary Chanticleer Book Review of the winning title, digital award badges, shelf talkers, book stickers, and more.
We are now accepting entries into the 2017 Laramie Awards. The deadline is June 30, 2017.  Click here for more information or to enter.
Congratulations to those who made the LARAMIE Awards 2016 FINALISTS and SHORT-LISTERS.
More than $30,000 worth of cash and prizes will be awarded to the 2017 Chanticleer Novel Writing Competition winners! Fifteen different genres to enter your novels and compete on an international level.