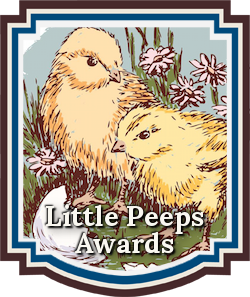 Chanticleer Book Reviews is honored to announce the First Place Category Winners for the Little Peeps Awards 2016, for Early Readers. Little Peeps Early Readers Book Awards is a division of the Chanticleer Blue Ribbon Award Writing Competitions.
The Little Peeps Awards recognize emerging new talent and outstanding works in the genre of Childhood Early Readers.
CONGRATULATIONS to the 2016 Little Peeps First Place Award Winners!
First Place Category Winners for the Little Peeps Awards are:
Story Book: The Blue Beetle by Sara Dahmen

Chapter Grade Book: The Tooth Collector Fairies, Batina's Best First Day by Denise Ditto Satterfield
Activity Book: Rikki & the Rocket Twins Adventure 1: Discovering the Solar System by Kneko Burney
Educational Book: The Adventures of Frank and Mustard: Stuck in the Mud by Simon Calcavecchia
Picture Book: The Mouse and the Mole Hill by Donna Washington
CONGRATULATIONS to  Denise Ditto Satterfield, author of the Litttle Peeps Grand Prize Winner —The Tooth Collector Fairies, Batina's Best First Day

!
The 2016 Little Peeps Short Listers competed for these First Place Category Positions. These First Place Category Award Winners' novels have competed for the Little Peeps Grand Prize Award for the 2016 Early Readers. These winners were announced and recognized at the annual Chanticleer Authors Conference and Awards Gala, Bellingham, Wash., on April 1st, 2017.
The First In Category award winning titles will receive an award package including a complimentary Chanticleer Book Review of the winning title, digital award badges, shelf talkers, book stickers, and more.
Congratulations to those whose works made the Little Peeps Awards 2016 FINALISTS and SHORT-LISTERS lists.
We are now accepting entries into the 2017 Little Peeps  Awards. The deadline is August 31st, 2017  Click here for more information or to enter.
More than $30,000 worth of cash and prizes will be awarded to the 2017 Chanticleer Novel Writing Competition winners! Fifteen different  genres to enter your novels and compete on an international level.