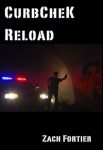 Publisher: Steele Shark Press (2013)
Buy the book now at:

Amazon
Interspersed with surprising moments of dark humor, fervent police pranks, and told with unchecked language, CurbChek-Reload by Zach Fortier is an expose' of the challenging and graphically violent situations that are reflections of his day-to-day experiences of his thirty-year career as a city police officer.
Fortier's CurbChek-Reload is the third installment of his true-crime trilogy, The Curbchek Collection and takes readers on another ride through the arduous physical and emotional tribulations he experienced as a veteran police officer.
Fortier does not temper his prose when he describes the depth of indifference, cruelty, malice, and depravity people inflict upon themselves, their loved ones, or someone in the wrong place at the wrong time without regard to the consequences of all involved.
From the first sentence, the reader is positioned as a civilian who desires to witness the real underbelly of the mean streets and rides along in the patrol car. Fortier, who professes he hates ride along's, recounts each story to you without emotion and in straightforward, curt exposition as if you're watching over his shoulder. He articulates the benefits, downsides, and hazards of working the night shift, day shift, and with a four-legged partner armed with razor sharp teeth and a nasty independent streak.
The stories take place in an undefined location called Central City and do not have a time sequence. The book is somewhat of a hybrid as it does not follow the usual conventions of true crime or memoir and contains some minor craft issues. However, it shines in its representation of the hazardous and complex challenges faced by the police. Fortier admits that if the public actually knew how thinly spread the police department was at times (six officers for an entire city), there would have been absolute panic.
Fortier's attitudes concerning some members of an apathetic society, duplicitous city leaders, inept police department management, and other officers are quite telling. He calls the people who drive into the city each morning to work Daywalkers.
Conversely, Fortier provides examples where he relied upon his ability to communicate to de-escalate dangerous situations such as domestic disturbances, suicidal gestures or attempts, a potential melee, insatiable drug abusers, and so on.
There is no overall plot or chronological framework to this story; rather, it's a collection of episodic scenes without a story arc that occurred during the author's law enforcement career. The writing style contains gives the impression this book is a transcription of the author's recorded recollections of some of his intense situations that he experienced in his thirty-year career as a policeman.
Nevertheless, as written, this collection contains some indomitable, funny, freakish, sad, outlandish, and bizarre accounts that vividly reflects one police officer's complex experiences that occur all in his line of duty to protect and to serve.