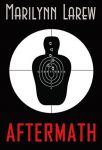 Publisher: Artemis Hunter Press (2017)
Buy the book now at:

Amazon
Author's Website
Mystery maven Marilynn Larew has devised a can't-put-down thriller with a female lead who can handle everything from flying bullets, dead cats, and snakes in the jungle, with only the occasional meltdown in Aftermath.
It's a normal day for private investigator Annie Carter when handsome, Irish, and possibly crazy "Don't call me Charlie" Magee shows up at her townhouse/office/home claiming someone is trying to kill him. For one thing, a body fell out of a window and landed near him. But even more convincing, someone shoots a hole through Annie's front window just as Magee arrives on her doorstep – and not long after that, they find a dead cat on the stoop.
But can Magee be for real? His stories are garbled, and sometimes he seems to be dodging the truth, but when she lets him move in (for his own protection) it turns out he's a decent cook and, well, let's say his interest in her is hard to resist.
Meanwhile, Annie's lawyer daughter Elizabeth is bugging her because her boyfriend wants to get married, which is against Elizabeth's feminist principles, and for some reason, it's all Annie's fault. Added to this chaotic, action-crammed and often witty mix is Annie's newest client, Vivian Rowlandson, whose husband has disappeared without a trace. A complex inheritance means the client must find her spouse or lose all financial support for her over-sized mansion and ten horses. And just as all these mysteries build, Elizabeth is kidnapped.
Threading her way through other people's bizarre problems is what Annie signed on for when she became a private investigator. It was the job best suited for a single parent. But now her mothering skills are questioned and her own life is in danger.
Eventually, the hunt for Vivian's errant husband will take Annie to the shadowy, steaming jungles of Southeast Asia where human and reptile killers lurk around every tree—and where the charming Magee will prove a stalwart bodyguard—in more ways than one.
Practiced mystery novelist Larew (Dead in Dubai, The Spider Catchers) presents a plot that brings her expertise to the fore. With teaching and publishing credits in American and Vietnamese military history, she has also visited Hanoi and other far-flung places. Her Annie is a heroine for the mid-life generation: a gritty divorcee with a penchant for adventure and a secret passion for unruly older men. Larew sculpts Annie with just the right proportions of savoir-faire, guts, and a few moments of unabashed girly-ness.
Sure to please Larew's fans and attract new ones, Aftermath is a welcome addition to the female detective mystery/thriller genre steeped in exotic locales, alluring hints of romance, bullets flying, people disappearing, and just enough humor to wrap it all together for the perfect read.