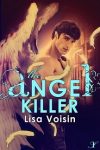 Publisher: Inkspell Publishing (2014)
Buy the book now at:

Amazon
Author's Website
High school is a little more complicated for Mia and her unusual boyfriend, Michael Fountaine. Miraculously recovered from a coma only a few months earlier, Michael has many secrets that only Mia truly understands. But love and understanding aren't always enough to stay sane when the world outside is changing before their eyes.
These two never know when a day might include demons from the darkest pit, minions of despair, or hellhounds looking for a fresh kill. A battle of supernatural dimension is coming ever closer to the heart of their hometown of Seattle, and Mia will soon have her burgeoning power put to the ultimate test. If only she could believe in it more and trust in the strength of angels! Current and past struggles are interwoven for both of them when a powerful nemesis returns wielding a sword like no other. It's unique, it has a name, and it's lethal.
In book two of author Lisa Voisin's The Watcher Saga, Mia and Michael reunite when Raguel returns with vengeance on his mind.  With special abilities of her own, Mia is able to see Michael for what he really is and to aid in his battles while keeping his identity secret even from her best friends, and it isn't easy! If only she could concentrate on more normal things, like Fiona and Dean, and enjoy the school's wrestling matches. But her destiny is more complicated than that, and she knows it. She also knows that her love for Michael is worth anything to her, just as it has always been across the many lifetimes she is just now beginning to remember.
In The Angel Killer, certain details are prominent. Actual Seattle locations make strategic appearances, like the Smith Tower and the Underground, and the weather as described will be familiar to any Western Washingtonian. Voisin's proper names, as well, are made to fit the character and mood. Each Angel, for example, has a name that ends with a similar sound, whether it's Arielle, Turiel, Damiel, or Michael. These are beautiful beings with beautiful names.
Another character in Voisin's book, Mia's good friend Fatima, is described as a person with visions and her name is equally evocative, reminiscent of the little children of Fatima, a popular Catholic story.  But it is with Fatima and her twin brother, Farouk, that Voisin veers from her narrative of Angels and Demons to one of more Middle Eastern content when Fatima is unwittingly possessed by a Djinn, and only the Angel Michael can help. The author's attempt to meld these two very different descriptions of embodied evil may be unsuccessful for some readers expecting a more strictly Christian storyline, and yet, as early as page one it is Fatima's gift of a Hamsa necklace that buzzes a warning for Mia when unseen Demons are near.
Overall, The Angel Killer: Book Two in the Watcher Saga is full of colorful Seattle locations and symbolic characters in this addition to Voisin's continuing saga of Good vs. Evil. If you've already met Mia and Michael, or are just making their acquaintance for the first time, you'll want to know how this battle ends.