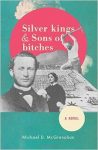 Publisher: Michael McGranahan Author (2014)
Buy the book now at:

Amazon
Author's Website
Three men. Two cities. And as fate would have it, not all of them will be able to find what they're looking for.
There's that old platitude claiming that the truth is stranger than fiction. And sometimes it is. Sometimes it's not even close. But what about what lies in the in-between? The undefinable midpoint wherein truth and fiction coalesce into an amorphous other. Sounds precarious, like one false ingredient spoiling the brew, a tangy, bothersome clash between bitter and sweet.
Not here. Not with Silver Kings & Sons of Bitches, a shrewd and seductive history lesson deliciously coated in literary flair and thematic design, courtesy of novelist Michael McGranahan. Using fiction as a tool to complement fact, McGranahan strikes gold (irony aside) in weaving a sweeping epic grounded by rich character development and high-stakes, enchanting from the first page to the last.
Taking place in the mid-nineteenth century on the heels of the California Gold Rush, the story centers on three lead protagonists. Chief among them is William Ralston (factual), financier and founder of the Bank of California, whose business exploits in the purpose of serving a greater love seemingly mark him for tragedy. Two things he loves most: Louisa Thorn, taken much before her time; and the peninsula that is San Francisco, a budding, bayside metropolis that Will dreams to recreate as the Paris of the West in honor of his sweet Louisa. Quick to become one of the city's leading figures, Will seeks a bonanza, something he can use to build his empire. And he believes he's found it in Virginia City, Nevada at the advent of Comstock Lode and the veritable oodles of silver to be had.
Only picking silver isn't the same as picking peonies, and Will soon finds opposition in the form of Adolph Sutro (factual), a Prussian immigrant with dreams of his own. Though initially, the men bear many resemblances and share aspirations, their own prospective plans for the Comstock put them at odds with one another, and ensure that they both cannot walk away with what they want in this rat race that is the West.
Thirdly and finally, we meet Finnian "Finn" Gillespie (fictional), a down-on-his-luck Irishman whose dodgy dealings in San Francisco find him similarly seeking solace in Virginia City. The sole working-man protagonist, Finn finds himself soliciting the affections of schoolteacher Jess Ohhlson (fictional), whose regrettable sexual history in San Francisco and striking likeness to the late Louisa Thorn brings her to the attention of the already married Ralston.
Captivating and beautiful, Michael McManahan's Silver Kings and Sons of Bitches is a lesson in power, greed, and what a man will do for love.