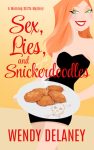 Publisher: Wendy Delaney, LLC (2015)
Buy the book now at:

Amazon
Author's Website
If you like your mysteries cozy with a side of sassy romance and a dash of family squabbles, you'll enjoy spending time with Wendy Delaney's Sex, Lies, and Snickerdoodles featuring truth wizard, Charmaine.
The story takes place in the small town of Port Merritt in the Pacific Northwest where Charmaine Digby is a newly appointed Probationary Special Assistant to the Chimacam County Prosecutor/Coroner. While the job title may be a bit unwieldy, Char throws herself into the role with gusto.
Her zeal doesn't sit well for friend-with-benefits Steve Sixkiller, the town's one-and-only detective. On the one hand, his closed-mouth approach frustrates Charmaine but on the other, sex with him is great since they occasionally share a bed and make ice cream a part of their escapades. This is not a steamy romance novel – it's a cozy mystery.
Fortunately for Charmaine, the entire town has its ear to the ground and the nosy neighbors and colorful characters have plenty to say and are willing to share. When news hits the streets that Russell Ferrantino, a local lothario, has been found dead, tongues wag. Especially when his death may – or may not – have involved foul play.
Along with her own investigation of the supposed murder, Char soon has her hands full dealing with the surprise arrival of her (literal) drama queen mama, "Hurricane Marietta," AKA Mary Jo Digby. Seems Marietta has attracted the attention of Charmaine's former biology teacher. Now Char finds herself sleeping on the 'Crippler' at her Grams while fearing her mother may jump into yet another misguided marriage.
Clues keep piling up and the pool of suspects, expanding. Russell Ferrantino's brothers, Andy and Nathan don't seem overly distraught at his passing. There are plenty of Russell's lovers, past and present, to mourn but did any of them have a bone to pick with the deceased? With Char's persistent poking into every nook and cranny, feathers are sure to be ruffled and the clues will shake loose, too. What kind of 'work' was Russell doing over at Joyce Lackey's place? And one wonders how Pete Lackey felt about having the town's troublemaker spending so much time at his place.
Wendy Delaney's style is fresh and frisky, leading her readers down a path to a rollicking good time. Delaney's folksy (the series is called Working Stiffs mysteries)  storytelling in Sex, Lies, and Snickerdoodles  goes down like a mug of hot chocolate with peppermint schnapps and a daub of whipped cream on top or your favorite summer imbibement! Enjoy!