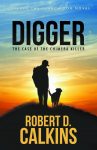 Publisher: Callout Press (2016)
Buy the book now at:

Amazon
Author's Website
Artfully constructed with lightning pacing, Robert D. Calkins' Digger: Sierra and the Case of the Chimera Killer is a must read for mystery/thriller fans and for animal lovers alike, especially those who know that a dog well-trained can be much more than just a pet. 
Teenager Bryce Finn and his Golden Retriever Sierra share the spotlight as the novel's human hero and canine heroine. As a determined duo doing SAR (search and rescue), they are just about the best in their Washington state region, time and again proving Sierra's reliability and wholehearted enthusiasm for the often grisly "game" of locating decomposing corpses.
There's a serial killer on the loose in Kitsap County, targeting young female runaways, drug users and prostitutes. Sheriff Elroy Patterson asks for some extra funds from the county council, above the objections of the hard-nosed conservative councilor, Garrison, who mockingly calls the supposed killer a "chimera"–an imaginary monster.  The council overrides him and grants Patterson the money, and the press latches onto Garrison's weird term–so the hunt for the Chimera Killer is on.
Tracking down the serial murderer becomes the new shared obsession of Bryce and Sierra, although one rescuer, Alan Granger, seems curiously determined to make the pair look bad–but with no success. Whenever Bryce tells his pet to "find Digger" she's all too willing to please, knowing that a ball game will be her reward.
But Bryce has another obsession: he's finally getting a chance to woo Katie, his first foray into young love. Katie is reciprocating by taking an active role in SAR, a romantic interest in Bryce, and developing a fondness for his amazing canine. Meanwhile, more bodies are being discovered, which, as Bryce notes, is both a victory for law enforcement and the SAR team, but a sad day for victim and family.
Author Robert D. Calkins, himself a SAR dog handler in the very county where this multi-layered plot takes place, has set out to educate as well as entertain. He offers fascinating details of the canine/human relationship, even to the tone of voice (high-pitched and childlike) that is best used to reward one's dog for success in locating the sought-after person or object. Anyone interested in effective dog training will find this book a manual of best practice, as numerous tips are cleverly embedded in dramatic scenarios that will keep you turning the pages.
This book will interest Y/A readers through adult with its teen characters out-doing many of the grown-up pros in solving crimes. More seasoned readers will also find themselves charmed and intrigued by the subtleties of a mystery well-conceived and cinematic.
Calkins' earlier works centering around this subject are suitable for the middle-grade readers and includes Digger, Sierra Becomes a Search Dog, and Sierra the Search Dog Finds Fred. The author's fourth book is Bryce Bumps His Head, a chapter book for beginning readers. Although Digger: Sierra and the Chimera Killer could be considered a flagship novel, the author tells us he is working on a sequel. Now that's something to be excited about!