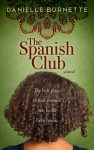 Publisher: Fine Kennings Press (2014)
Buy the book now at:

Amazon
Author's Website
Seven Chicago teens spend one eventful week on a chaperoned field trip to Mexico. Traveling with the intention of cultural immersion, they instead learn love, forgiveness, and some serious life lessons.
St. Francis High School Spanish Club members Brianna and her BFF Dana, along with five other friends are on a field trip that they won't soon forget. It's the summer before their senior year, and adulthood—with all of its attendant major decisions—looms. Flying into Mexico City accompanied by teachers Mrs. Fritz and Miss Yancy, they meet Miguel the guide, who ushers them through La Ciudad's myriad monuments, cathedrals, and markets, as well as Teotihuacán, Guanajuato, and Guadalajara. It's quite the whirlwind trip, with Miguel's impassioned recounting of history adding meaning and depth for students and readers alike. Indeed, the rich imagery of the hi about astorical landmarks blossom on the page, and the descriptions of the people, the food, and the art should fire the imaginations of teen readers and instill in them a desire to travel to Mexico City and beyond.
That said, The Spanish Club is not a travel essay, but a young adult drama, stocked with classic teen yearnings, choices, vanities, and pranks. Author Burnette does a marvelous job of imbuing the narrative with colorful angst: "At once, every blemish on Brianna's body itched and squirmed for Enrique's attention, and she stiffened under the weight of all her imperfections." Her characters embody every emotional high and low – especially protagonist Brianna Garrett.
Brianna is inseparable from her BFF, Dana Tate, until she discovers, with equal parts shock and delight, that heartthrob Enrique has shared her distant admiration since freshman year. A rift grows between the girls, and not only because of Enrique. Dana is jealous of Brianna's growing friendship with dance team leader Stacia.
But boys and BFFs aren't the only things commanding Brianna's attention.
Before the trip, Brianna needed to acquire her passport. What she soon discovered forces a rift between the parents she always counted on for the truth. Brianna was adopted. And her parents never once disclosed the information. Now in Mexico, she rages against them and shuns their long-distance calls. But what brings eventual forgiveness is not her identity but her friend Dana.
Throughout the story, the World Cup serves as a foreboding backdrop, with the alarming zeal of local news reports of fan-related tragedies. This culminates in a frightening confrontation that departs from the story's general lightheartedness to make a sobering point, but also, brings Brianna and Dana back together, making The Spanish Club a very good summer read for Y/A audiences.