Listen to or download this article: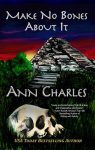 Publisher: Ann Charles (2017)
Buy the book now at:

Bookchain

Amazon
Author's Website
Ann Charles has another true winner on her hands as she reunites the intrepid band of archeologists led by Angélica García for the second installment of her crackerjack series A Dig Site Mystery. From the very first sentence, Make No Bones About It is an entertaining thrill ride of the first order.
Top-notch archaeologist, Angélica García, admits that after her divorce she "suffered from trust issues—as having no faith in her own ability to judge character." She leaves her university teaching job for a change of pace and heads to Mexico where she is hired by the National Institute of Anthropology and History to clean up and prepare derelict dig sites (ruins) for the current tourism boon— archaeo-tourism.
Angélica's latest project has a few challenges she must overcome. It is located in a remote part of Mexican jungle infested with a myriad of hazards: scorpions, spiders, toxic fauna, bloodthirsty insects, hungry Jaguars, mounds of skeletal remains, and a seemingly endless supply of deadly rattlesnakes. Oh, and it is the same place where her mother, a top archaeologist in her own right, was killed in a helicopter crash—some say because of a curse.
To accomplish her mission, Angélica is joined by her father, Juan, a brilliant man nursing a leg injury who is saddled with his fair share of superstition anxiety. Quint Parker, a handsome photojournalist that jets off across the globe on assignments on short notice, but returns to lend a hand and tug on Angélica's heart strings: she is ready with open arms and a razor-sharp machete! Pedro, her quasi-adopted brother and helicopter pilot, and several others round out a solid cast that adds color, context, and pathos to the story.
Angélica leads the team to unlock and document the secrets of the ruins, but she is consumed by a quenchless drive to complete her mother's unfinished work. As the team delves deeper into labyrinth warning signs abound and it becomes clear that they are in mortal danger. The book's first sentence states, "The Mexican jungle had devoured the remains of the dead, bones and all," and so for those who ignore history could become history.
At the beginning of the book, Ann Charles discusses her extensive research, which pays off tremendously and adds incredible depth and texture to a well-crafted story. Additionally, C.S. Kunkle's fabulous illustrations are dramatic, prescient and add substance to the story.
Make No Bones About It, simply put, is one of those books you pick up and cannot put down.