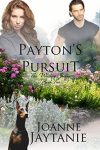 Publisher: Joanne Jaytanie Author (2016)
Buy the book now at:

Amazon
Author's Website
A diabolical plot brews in the midst of a steamy romance in author Joanne Jaytanie's second Winters' sisters' novel, Payton's Pursuit.
Continuing where book one left off, Victory and Tristan marry, and Morgan and Collin—Lawrence Braxton's DNA guinea pigs—join forces with Tristan's team and the Winters Corporation in Washington State for book two. Payton Winters, one in a set of triplet sisters, learns from Victory that her ability to detect and inadvertently calm Collin's unstable emotional levels has something to do with the specially formulated fertility drug their mother used for conception.
Concurrently, Braxton, his company Biotec, and the clandestine Kaleidoscope Group remain at large, which means that Victory (and quite possibly all of the sisters) is still a prime target because of her powerful telepathic ability to communicate with animals.
Payton attends dog shows with the last person she would want assigned to be her bodyguard: Collin McBain, the very same man who kidnapped Victory when she was held captive at Biotec (in book one).
During one of the dog shows, Collin finds out that his young stepsister, Emma, may be in trouble and assigns a team to keep an eye on her. After connecting the dots, he and Payton learn that the Kaleidoscope Group runs the boarding school for specialized students, and that the group has chosen Emma for more reasons than Collin and Payton realize. What's even worse is Victory's discovery of their mother's fertility research, which has ties to none other than Biotec.
Needless to say, close quarters breeds love, and Collin and Payton fall in love. Amid their burgeoning romance, Braxton relentlessly searches for Emma. Providing for Emma's safety, however, turns out to be a more complex problem than Collin and Tristan's crew thought.
Many returning characters, as well as a new supporting cast, grace the pages of Jaytanie's second book in the Winters series. Punctuated with aspects of book one, Chasing Victory, Payton's Pursuit clearly can function as a stand-alone, yet, it is highly recommended for readers new to Jaytanie's Winters series to start with book one to appreciate the series' plot dynamics. One of the most important plot dynamics is in understanding how telepathy plays into the sisters' lives. This begins with Victory who first discovers that her gift—which is heightened when she meets her future husband Tristan—goes well beyond working with animals. Of course, Jaytanie does not dwell on the details of Victory's story—kidnapping and romantic ties to Tristan. So, first-time readers will miss out on those nerve-racking and spicy tidbits.
Payton's Pursuit plot tension builds slowly while throwing in a whole bunch of twisty turns that will have your engines racing until the very end. Consistent with her series is Jaytanie's writing style, including a well-defined cast, woven together with engaging dialogue and riveting scenes.