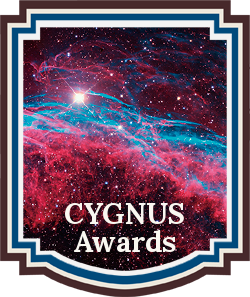 The Cygnus Book Awards recognize emerging new talent and outstanding works in the genre of Science Fiction, Steampunk, and Speculative Fiction.  The Cygnus Book Awards is a genre division of Chanticleer Book Reviews Blue Ribbon Awards Writing Competitions.
The following titles and their authors have made it past the initial "Slush-Pile Rounds" and will compete in the next rounds to see which titles will make it to  the 2017 CYGNUS Book Awards Short-List.
Lou Dischler – Meet Me Under the Comet
Jim Cronin – Hegira
Elizabeth Crowens – A Pocketful of Lodestones
Michelle Bryan – Strain of Resistance
Sara Stamey – Wild Card Run
Andrew P. Blaber – Fallow
MWAnderson – Breaching The Parallel
John Yarrow – The Future's Dark Past
Pamela LePage – Virtuous Souls
Darrell Lee – The Gravitational Leap
Victoria Vass – Eleven: 1
David Neuner – Fear Factory
Chris Rasmussen – The Cat & The Fiddle
Rhett Bruno – From Ice to Ashes
Elizabeth Crowens – Silent Meridian
Magnus Victor – Oort Rising
Brian Cohn – The Last Detective
Julian North – Age of Order
Wende Dikec – Starr Valentine
Jerry Amernic – The Last Witness
Candace Sams – Galaxy Man
Leonard S. Tate – Journey to Nirvana
Cathy Parker – The Power of Three: The Novel of a Whale a Woman, and an Alien Child
Matthew Buscemi – Schrodinger's City
Darren D. Beyer – Casimir Bridge
Marcus Julian Carbo – The Path to Arcadia: The Great Crisis
KB Shaw – Neworld Papers: The Warrior's Tale
Andrew Craven – Moshiah 
Alexander Weinstein – Children of the New World
Carl S. Plumer – Demon Days 
Sencer Turun- Requiem for Ignorance
Andrew Craven – Wintercity Crossing
Michael Simon – First Command
Michele Fogal – Root of the Spark
Sydney M. Cooper – Forsaken Lands Book II: Sacrifice
Dayna Ingram – All Good Children
Good Luck to each of these Science Fiction writers! 
We are accepting entries into the 2018 Cygnus Awards Novel Competition for Science Fiction Works.
To compete in the 2018 CYGNUS Awards or for more information, please click here.
THE DEADLINE TO ENTER THE 2017 CYGNUS Novel Writing Competitions was April 30, 2017.
Chanticleer Book Reviews & Media, L.L.C. retains the right to not declare "default winners." Winning works are decided upon merit only. Please visit our Contest Details page for more information about our writing contest guidelines.
CBR's rigorous writing competition standards are why literary agencies seek out our winning manuscripts and self-published novels. Our high standards are also why our reviews are trusted among booksellers and book distributors.
Please do not hesitate to contact Info@ChantiReviews.com about any questions, concerns, or suggestions about CBR writing competitions. Your input and suggestions are important to us.
Thank you for your interest in Chanticleer Book Reviews International Writing Competitions.