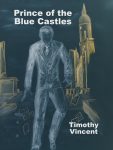 Publisher: W & B Publishers (2016)
Buy the book now at:

Amazon
Author's Website
Wilson Ames will always offer you a deal of a lifetime – your lifetime, that is in Timothy Vincent's suspense/thriller, Prince of the Blue Castles.
Highly suspenseful and carefully penned, this is a thinking person's novel that will grab you from the get-go. Castles come into play, but they comprise a book within this book, a small sketchbook to be precise. Our protagonist, Wilson Ames, is never without it since he never knows when he'll feel the need to draw a castle, using an old-fashioned mechanical pencil filled with dark blue lead.
Yes, it may seem odd that someone in Ames' line of work carries a sketchbook rather than a gun or a high-tech electronic device to help extricate himself from dire situations. But, then, Ames is not your typical hero. A slight, quiet, fastidious man who speaks with utmost clarity and precision, his power rests in not being a James Bond type. His opponents don't know what to make of him, and his size and demeanor cause them to underestimate him, a miscalculation that works to Ames' advantage.
So, what exactly does he do? As the founder and only employee of Suadela Consulting Agency, he's a messenger who delivers the most sensitive of communications.  In doing so, he negotiates, arbitrates, and manages to persuade clients to undertake specific actions if they want to avoid disastrous consequences.
Although he maintains a very low profile, his skills are well-known to Haines, an old college friend who hires Ames to contact various people. While negotiating with clients, Ames is unflappable. Even when being questioned by brutal, sadistic men who torture him, Ames maintains a clarity of thought and never discloses his consuming desire for the safety of his wife. The cost may be his life, but such is his devotion to her that any concern for himself is abandoned.
Vincent provides just enough tantalizing information about Ames' past, via flashbacks, to allow the reader to regard him in the present with escalating curiosity and admiration. When Ames is boxed in by circumstances, his values about to be compromised beyond repair, he meets a worthy opponent, Mr. Yoto, and learns that life sometimes offers options that can't be anticipated.
And what of the castles, described in such inviting and lovely language? Is the reader just privy to a relaxing pastime for someone whose life often takes harrowing turns? There's more to quiet little Wilson Ames than meets the eye, and the same is true of his drawings. They clue the reader to Ames' thoughts and plans. They are, in a sense, maps that he uses to navigate his work and his overall life. And just when the reader believes all to be resolved, a bit of dark red literally enters the picture, and all is forever changed. Overall, Ames' opponents are foolhardy to underestimate him, and readers should not make the same mistake.
A thinking person's psychological thriller – twists & turns,worthy opponents, conspiracies & deceptions abound–exquisitely intriguing.