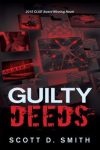 Publisher: Promontory Press (2017)
Buy the book now at:

Amazon
Author's Website
What would you give if you could add to your memories – say, load your brain with pleasant, peaceful memories on top of the violent ones you live with every day? What would you do if the memories you were promised actually turn out to be those of a sadistic serial killer?
Memories are at the heart of this fascinating detective thriller, Guilty Deeds, by Scott D. Smith. The plot involves the transplanting of memories from one person to another and the result is an intriguing set of concentric mysteries and a very good read.
Stephanie Monroe, a young, smart and sarcastic detective working in Houston has a seemingly open and shut case when one Robert Grayson, a veteran who saw a good deal of violence in the Middle East, arrives at the police station with blood-stained hands and confesses to the murders of several women. He's terrified he'll kill again and begs to be incarcerated before he can do so.  Investigations don't get much easier for a homicide detective, but Stephanie has been on the job long enough to know that life is never that simple.
Enter Happy Memories, a company that buys and sells memories for your pleasure – and their profit. When Stephanie uncovers the fact her self-proclaimed killer is one of Happy Memories' clients, she turns her investigation to the very affluent Dr. Lawrence Mead the owner of the company whose practices range from the unethical to the sinister. With the help of the police psychiatrist and Robert, Stephanie works to unravel this ever-deepening mystery before Robert's sanity becomes the next victim.
Tension is ripe throughout the well-written scenes and the dialogue is unexpectedly fun and engaging. The affectionate and quick-witted banter between Stephanie and Robert, whose attraction to one another grows as they become more deeply mired in the investigation, is solidified when they share their own sets of memories. This establishes a trust that will connect them in ways they could never have anticipated – and hooks the reader from the start.
The conclusion leaves the reader hoping for a sequel. How fortunate, then, that there's an epilogue that manages a perfect and surprising finish for a novel that probes the essence of the human condition. Thought provoking and entertaining, this thriller will have you second guessing yourself.