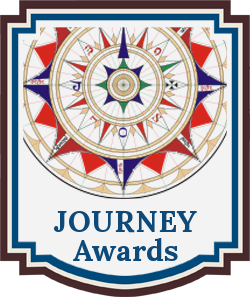 The JOURNEY Book Awards recognize emerging new talent and outstanding Narrative Non-fiction works. The JOURNEY Book Awards is a division of the Chanticleer Book Reviews International Book Awards.
Chanticleer Reviews International Book Awards also offers Non-Fiction Book Awards focusing on Instruction and Insight, Guides, How-To, and Self-help. Click here for more information.
The following titles and their authors have made it past the initial "Slush-Pile Rounds" and will compete in the next rounds to see which titles will  be Short Listed for the 2017 Journey Book Awards.
Good Luck to All! 
Kari Rhyan – Standby for Broadcast
Patricia Walkow – The War Within, the Story of Josef
Marilynne Eucgubger – Lives of Museum Junkies
Roni McFadden – The Longest Trail
Theresa Mathews – Fishing With Hyenas
Bruce Rettig – Refraction
Karen Elizabeth Lee – The Full Catastrophe: A Memoir
Pattie Welek Hall – A Mother's Dance: One Step Back, Two Steps Forward, Full Circle
Alice Grant Bingner – Some Steps Back in Time
Dennis P Freed – Love Loss and Awakening
Donna LeClair/Emma Baker – Immunity
Susan Marie Conrad – Inside: One Woman's Journey Through the Inside Passage
Judith Works – Coins in the Fountain
Valerie Gardener – Chapunza: Witch doctor, Ax-In-Head and Pink Baboons, Memoir of a Nurse in the African Bush
Lou Lesko – The Ghost of Communism
W. Hock Hochheim – Don't Even Think About It
Dr. Scot Hodkiewicz – Getting to Heaven By Going Through Hell
Tommy Donovan – The Rail: What Was Really Doin' in the 60's Bronx
Deeann Callis Graham – Head-On, Stories of Alopecia
Kevin M Maher – No Couches in Korea
Rachel Thompson – Broken Places: a  Memoir
Frank Iszak – Freedom Flight
Joseph William Simmons – Dirty Motel Shenanigans
These titles will compete to be SHORT LISTED in the next rounds.
We are accepting entries into the 2018 Journey Book Awards for Narrative Non-fiction works.
To compete in the 2018 Journey Awards or for more information, please click here.
Chanticleer Book Reviews & Media, L.L.C. retains the right to not declare "default winners." Winning works are decided upon merit only. Please visit our Contest Details page for more information about our writing contest guidelines.
CBR's rigorous writing competition standards are why literary agencies seek out our winning manuscripts and self-published novels. Our high standards are also why our reviews are trusted among booksellers and book distributors.
Please do not hesitate to contact Info@ChantiReviews.com about any questions, concerns, or suggestions about CBR writing competitions. Your input and suggestions are important to us.
Thank you for your interest in Chanticleer Book Reviews International Writing Competitions and Book Awards.