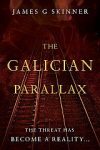 Publisher: Matador (2015)
Buy the book now at:

Amazon
Author's Website
Lieutenant Sergio Quiroga of the Civil Guards has smelled something fishy brewing in the northwestern autonomous community of Spain known as Galicia for some time, and it's not the world-renowned Port of Vigo.
Not directly, anyway. It's the cartels that are using the port to funnel drugs into Europe via the yachting enterprise, but what's worse, the cartels have ties to the terrorist faction known as Al-Qaeda. The deeper Sergio delves into the latter organization by way of the former, the more he learns of their shifting plots to attack on European soil. Without the support of his superiors, Sergio must immerse himself in the Galician underworld in order to stay ahead of this thing. He eventually enlists the aid of British consul Stan Bullock to decipher exactly where and when the onslaughts are to take place.
Largely set against the backdrop of northwest Spain following the 9/11 attacks, Skinner capitalizes on factual events to craft his narrative, such as the Madrid train bombings of 2004 and the bombings in London of 2005, to name a couple. And even more often he peppers in smaller-scale acts of aggression dually to punctuate the characterizations of Sergio and Stan and keep the looming threat they both face alive and machinating. To that point, Skinner also fills in the blanks of his international playing field by briefly focusing on the subsidiary parties such as the cartel leaders, Sergio and Stan's superiors, and even the then President George W. Bush and Osama bin Laden.
The Galician Parallax is certain to make a shrewd birthday gift for your diplomatically savvy uncle who likes to read about the second Bush administration and the concurrent War on Terror as if he were reading a series of dailies. The author maintains that he uses information based on facts to inform his readers rather than just trying to keep them entertained. On the other side of the coin, those readers more inclined to pick up a tight-knit character drama with some thrills here and there may be left wanting. Ultimately, Skinner, in his didactic world-building, challenges his readers and forces them to decide if they want to be informed or entertained. On the fiction side of things, Skinner imbues Sergio and Stan with their own personal struggles and desires to keep the reader caring about the story's primary focal points.
Make no mistake, The Galician Parallax is strong message serving to expose the cartel involvement in well-known terrorist organizations around the world. A timely and informative thriller set in Galicia, Spain. Shrewd writing about the international playing field of cartels by James G. Skinner!