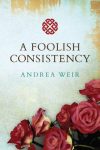 Publisher: Cedar Forge Press (2014)
Buy the book now at:

Amazon
Author's Website
The course of true love almost never runs in a true straight-line, and this is certainly the case in Andrea Weir's lovely romantic novel about second chances, A Foolish Consistency.
Although Fate seems to have smiled on Dr. Will Tremaine and Callie Winwood, former sweethearts a couple of decades ago, when they meet again in an emergency room, their second chance at love is problematic. Will is a widower in Westin, a community in the East, and Callie is a divorcée in California. It's not just the entire country that separates them, but the events of the last twenty-five years. Their attraction to each other is undeniable, however, and as feelings reawaken, they take the first steps to reconnect and build something new, something they hope will last.
Inevitably, they have obstacles to overcome. Will's children, Lizzy and Wiley, are thirteen and eleven, respectively, and still grieving the death of their mother, Joanna, two years earlier. Their maternal grandparents behave almost as if their mother were still alive, and they never acknowledge that Joanna suffered from mental health issues. While Lizzy reacts to her father's new girlfriend with typical adolescent angst and anger, her grandparents completely overreact and plot to gain custody of their grandchildren. Their motives for doing so blind them to the reality of the situation and pit Will and his children against Callie and her grown children, especially her son, Ben, in his early twenties.
Considerable depth is added to the narrative by Callie's understanding of Lizzie's feelings.  Having lost her own mother at an early age, Callie vividly recalls how difficult it was to accept her father's new girlfriend who eventually became her stepmother. Although Callie loves Will deeply and wants a future with him, she also understands that Lizzy's feelings are a priority, one that requires a great deal of patience and sensitivity. These qualities make Callie even more attractive to Will who reassures his children that his girlfriend is not seeking to take their mother's place.
Most scenes alternate between Callie's first-person point of view and Will's third-person outlook. This interchange between the female and male experiences of the romance gives the novel an intimate robustness, very appropriate for the narrative. The author handles the pacing just right, and the reader roots for the outcome one always wants in a romance. Still, the protagonists have much to learn about each other and themselves, and the author does not settle for a too easy denouement.
Love once lost is not always easy to regain, even when the couple in question are like peas and carrots. Andrea Weir brings memorable characters, shimmering and confident prose, and realistic dialogue to her stellar contemporary romance of mid-life star-crossed lovers seeking a second chance in A Foolish Consistency.