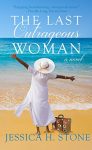 Publisher: Penchant Press International; 1 edition (2017)
Buy the book now at:

Amazon
Author's Website
Life is meant for living – outrageously in Jessica Stone's latest novel, The Last Outrageous Woman.
Eighty-six-year-old Mattie's life is dwindling away at Florida's Restful Palms Retirement facility but she has a plan—an outrageous plan. And it just might work. Taking advantage of a crisis situation, Mattie tricks a staff member into signing a release paper that will be their ticket out.
Each woman has a secret longing to be fulfilled. For Mattie, it's a sea voyage as described to her by a long-lost lover; food-obsessed Dolores wants to honor her Irish heritage by kissing the Blarney Stone; quiet, easily dominated Edna has a dream of riding a camel—in Egypt; Rose never got to say goodbye, her way, to her deceased brother buried somewhere in Wisconsin; and Helen remembers how her two sons, both killed in military service, loved Australia, leaving her with the desire to go there and pet a kangaroo.
To accomplish their mad scheme, the women who will become known to the world as "the grannies" enlist the help of Edna's young bohemian niece Katie, who will make connections for them—not just on flights, but with people in all the places they touch down. Sneaking out of Restful Palms with passports and very little luggage (they share necessities and take only one change of clothing each) the grannies head first for Wisconsin.
By the time they reach Ireland they have become a phenomenon on Facebook, and once their trek takes them to Australia, they have hundreds of thousands of "friends" who watch their exploits and cheer them on via YouTube. They become so admired by global social media fans that a dance is invented in their name, hoisting them to overnight Facebook fame—even though none of them quite understand what Facebook is, or even exactly how to use a cell phone.
But not all their adventures are fun. The grannies are hunted by a pair of greedy sisters trying to make sure their aging mother does not waste "their" inheritance and are swindled by con men who see them as easy marks. Their ramblings wind down in Cairo, but the reader senses that for Mattie, the "last outrageous woman," the trip will never really end.
Each woman finds what she seeks, but in ways very different than anticipated, in this rollicking tale of spirit and spunk. One of them enjoys true love for the first time; one will get long-sought revenge; one will find herself while getting lost; one will let the experience of reunion with her departed loved ones carry her away; and Mattie will discover that the sea can have a far different look and meaning than she had expected.
Told by best-selling author (Doggy on Deck) Jessica H. Stone, The Last Outrageous Woman transports the reader along with the grannies, to exotic locales that Stone herself has explored. Both a skilled and imaginative writer, the author surely knows that her own exploits, borrowed for this amusing, fast-paced yarn, would give her the well-earned title of "outrageous woman."
She also deserves extra kudos for showing that older folks are still fully human—capable of dancing, loving and celebrating life—while not side-stepping some of the undeniable pitfalls of aging—aches, fears, and memory loss.
Five run-away grannies prove that dreams are worth pursuing, life is worth celebrating, and you're never too old for true love in Jessica H. Stone's engagingly fun and poignant tale of women pursuing their hopes and dreams in spite of society's so-called best intentions.