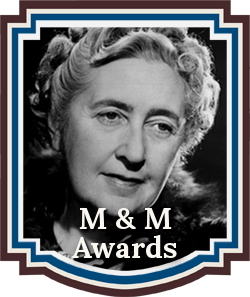 The M&M Book Awards recognize emerging new talent and outstanding Cozy and Not-So-Cozy Mysteries. The M&M Book Awards is a division of the Chanticleer Book Reviews International Book Awards.
The following titles and their authors have made it past the initial "Slush-Pile Rounds" and will compete in the next rounds to see which titles will  be Short Listed for the 2017  M&M  Book Awards.
Good Luck to All! 
D. J. Adamson – Suppose
M. K. Graff – The Golden Hour: A Nora Tierney English Mystery
Kathleen Kaska – Run Dog Run
Susan Breen – Maggie Dove's Detective Agency
Michelle Cox – A Ring of Truth
Amy Boyles – Scared Witchless
Debra Sue Brice – Danni Girl Mysteries: The Complete Series
Jeanette Hubbard – Chasing Nathan
Kara Lumbley – As the Ribbons Fall
Susan Boles – Cherry Cake and a Cadaver
Fred Shackelford – The Ticket
Dennis M. Clausen – The Sins of Rachel Sims
M. Louisa Locke – Deadly Proof: A Victorian San Francisco Mystery
J. L. Skirvin – Jaguar Ravenz King
Elizabeth Crowens – Memoirs of an American Butterfly (Or how I learned to stop worrying and love Alfred Hitchcock)
Mollie Hunt – Cat's Paw
Catherine Bruns – Baked to Death
Libi Astaire – The Moon Taker
Cindy Sample – Dying for a Donut
Valerie Tate – Scapegoat
Valerie Tate – Frog Legs
Susan Boles – Death of a Wolfman
Betty Jean Craige – Fairfield's Auction
Nancy G. West – River City Dead
Kim Hunt Harris – Unsightly Bulges, A Trailer Park Princess Cozy Mystery
Jennifer Mueller – Never Turn Your Back on a Wolf
Anna Castle – Moriarty Meets His Match
Cherie O'Boyle – Missing Mom
Sherrie Todd-Beshore – The Count Of Baldpate
David Selcer – The Dream Catcher Murders
Carol June Stover – Kenmore Square
Vee Kumari – DHARMA
Cody Schlegel – Junction
Lonna Enox – Striking Blind
Carl and Jane Bock – Coronado's Trail:An Arizona Borderlands Mystery
Jeanne Burrows-Johnson – Prospect for Murder: A Natalie Seachrist Mystery
Suzette Hollingsworth – Sherlock Holmes and the Chocolate Menace
Traci Andrighetti – Amaretto Amber
Gary D Lewellyn – The Bluff
Susan Boles – Death Of A Wolfman
RD Vincent – Donbridge: The Ring, The Legend and The Midwife
Diane Weiner – Murder is Collegiate
Diane Weiner – A Deadly Course
Lucinda Brant – Deadly Peril: A Georgian Historical Mystery
Beth Wareham and Jason Davis – Hair Club Burning
Amy S. Peele – CUT
Richard T. Ryan – The Vatican Cameos: A Sherlock Holmes Adventure
Lynn Bohart – Novel (No title given)
Loretta Jackson and Vickie Britton – Murder and the Good Old Boys' Club
Betty Jean Craige – Dam Witherston
J.L. Newton – Oink. A Food for Thought Mystery
Elaine L. Orr – Demise of a Devious Neighbor
J.G. Harlond – Local Resistance
These titles will compete to be SHORT LISTED in the next rounds.
We are accepting entries into the 2018 M&M Book Awards for Cozy and Not-So-Cozy Mysteries.
To compete in the 2018 M&M Book Awards or for more information, please click here.
Chanticleer Book Reviews & Media, L.L.C. retains the right to not declare "default winners." Winning works are decided upon merit only. Please visit our Contest Details page for more information about our writing contest guidelines.
CBR's rigorous writing competition standards are why literary agencies seek out our winning manuscripts and self-published novels. Our high standards are also why our reviews are trusted among booksellers and book distributors.
Please do not hesitate to contact Info@ChantiReviews.com about any questions, concerns, or suggestions about CBR writing competitions. Your input and suggestions are important to us.
Thank you for your interest in Chanticleer Book Reviews International Writing Competitions and Book Awards.