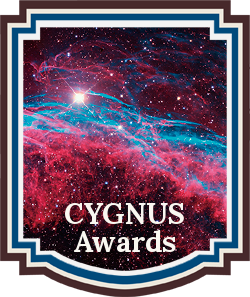 The Cygnus Awards recognize emerging new talent and outstanding works in the genre of Science Fiction, Steampunk, Alternative History, and Speculative Fiction.  The Cygnus Awards is a genre division of Chanticleer International Book Awards and Novel Competitions.
These titles have moved forward in the judging rounds from SLUSH pile to the 2017 Cygnus Book Awards LONG LIST. We incorporate the Long List when the judges request an additional round of judging to accommodate the number and/or quality of entries received.  These entries are now in competition for 2017 Cygnus Semi-Finalists List known as the SHORT LIST. Short Listers will compete for the limited First  Place Category Positions of the 2017 Cygnus Book Awards in the last rounds of judging and will be announced at the Awards Gala on Saturday, April 21st, 2018. 
Chanticleer Book Reviews is looking for the best books featuring space, time travel, life on other planets, parallel universes, alternate reality, and all the science, technology, major social or environmental changes of the future that author imaginations can dream up. Hard Science Fiction, Soft Science Fiction, Apocalyptic Fiction, Cyberpunk, Time Travel, Genetic Modification, Aliens, Super Humans, Interplanetary Travel, and Settlers on the Galactic Frontier, Dystopian, we will put them to the test and choose the best among them.
These titles are in the running for the SHORT LIST  the 2017 Cygnus Book Awards novel competition for Science Fiction!
Pamela LePage – Virtuous  Souls
Lou Dischler – Meet Me Under the Comet
Elizabeth Crowens – A Pocketful of Lodestones, Book 2 of The Time Traveler Professor 
Sara Stamey – Wild Card Run
M. W. Anderson – Breaching The Parallel
John Yarrow – The Future's Dark Past
Darrell Lee – The Gravitational Leap
David Neuner – Fear Factory
Chris Rasmussen – The Cat & The Fiddle
Rhett Bruno – From Ice to Ashes
Elizabeth Crowens – Silent Meridian
Magnus Victor – Oort Rising
Brian Cohn – The Last Detective
Julian North – Age of Order
Wende Dikec – Starr Valentine
Dayna Ingram – All Good Children
Sydney M. Cooper – Forsaken Lands Book II: Sacrifice
Michele Fogal – Root of the Spark
Michael Simon – First Command
Andrew Craven – Wintercity Crossing
Andrew Craven – Moshiah
Alexander Weinstein – Children of the New World
Darren D. Beyer – Casimir Bridge
KB Shaw – Neworld Papers: The Warrior's Tale
Cathy Parker – The Power of Three: The Novel of a Whale a Woman, and an Alien Child
Jerry Amernic – The Last Witness
Matthew Buscemi – Schrodinger's City
Michelle Bryan – Strain of Resistance
Andrew P. Blaber – Fallow
Jim Cronin – Hegira
Good Luck to All as they compete for the 2017 Short List!