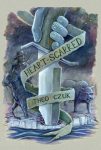 Publisher: Waterville, Inc (2014)
Buy the book now at:

Amazon
Author's Website
Author Theo Czuk provides a refreshing wave of storytelling in his award-winning literary Western debut novel, Heart-Scarred.
Rory Casso works as a shotgun freighter with the Pinkerton Detective Agency alongside his partner, Juke Bauque, running capital (i.e., money, furs, gold) up and down the Platte for the Reynolds Savings and Loan payroll. Because bandits lay traps along the way, the partners travel separately. Rory, who lived among the Hunkpapa Indian tribe when he was a boy, uses his skill of trail scouting to keep away from the gang. Juke may be part Native American, but he isn't familiar with indigenous skills since he was "privately tutored and socially cultured."
Enter Bronwyn Mason, a childhood friend of Rory's who plans to open the first one-room school house in Rawlings. Although she hasn't seen Rory in years, Bronwyn is relieved to meet Rory's partner, Juke so that she can hire him to be one of her drivers to transport three wagon loads of school material. Bronwyn's joy about establishing a school house quickly turns to sorrow when she hears that the Thompson gang murdered her father, the esteemed Marshal Isham Mason. Even though she is grief-stricken, she is determined to fulfill her mission. Bronwyn's traveling band faces various calamities en route, especially when they get held up by Indian warriors. What she doesn't expect is that the person who comes to the rescue is none other than Rory. Romance blooms between the childhood friends and all appears to go well until the Thompson gang catches up with them.
Western enthusiasts in search of a refreshing take on their favorite genre have much to look forward to in Czuk's award-winning novel. Czuk adds verisimilitude to his story by incorporating a host of realistic characters. Veering away from stereotypes, Czuk presents protagonists that mimic the educational and societal waves taking place during the mid to late 1800s.
Czuk creates three different people from three different educational backgrounds. Rory is a white man whose comes from a dysfunctional home but finds stability living among Native Americans. Juke, who is half black and half Native American, is brought up in the cultural surroundings of Boston—the antithesis of what would traditionally come out of western tribes. Bronwyn—who learned everything she needed to know about life through her father—in many respects reflects an "Annie Oakley" figure, but much more feminine.
There is more to the Old West than being chock-full of rough and tough characters. Much of the gruff personas came from merely surviving day to day. Czuk aptly weaves in plenty of historical information that shines a light on the differences of what life was like between the eastern and western territories. While pointing out Native American history (including connections with Ireland during the Great Potato Famine), Czuk gives attention to education, or the lack thereof, especially in the West, and thus Bronwyn's desire to develop a one-room schoolhouse.
Czuk offers a well-balanced mix of storytelling, history, engaging dialogue, and thought-provoking themes that go beyond the good, bad and the ugly in his novel, "Heart-Scarred."