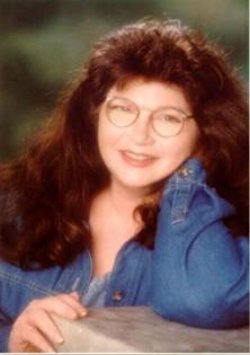 In honor of the Laramie Awards month, we decided to interview one of our very favorite authors, Jacquie Rogers. It should come as no surprise that Jacquie won the Laramie Grand Prize in 2016 for her rip-roaring, shooting, tooting, humorous Western that features Honey Beaulieu, Man Hunter!
Jacquie Rogers is a regular contributor for the Western Fictioneers blog. She presents at RWA conferences and workshops, Chanticleer Authors Conferences, and  Western Writers of America. Her works are known for their hilarity, adventure, mistaken identities, and romance. Rogers' books are  a hit for anyone who has a penchant for classic Westerns and Shakespearean comedies. She lassos the genres together in a most enjoyable way making her tales a true pleasure to read. From saddles sores and thorns from the trail, to finally being able to breathe when the last binding on the corset is released, even the most die hard Western readers will be impressed with Roger's knowledge and expertise she portrays as she takes you back in time to the Old West.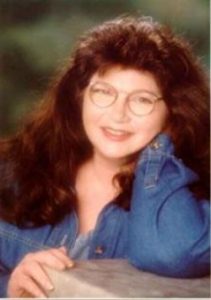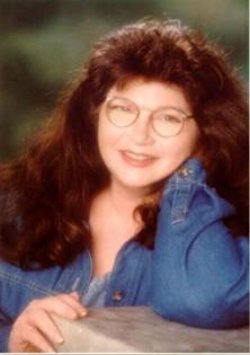 Jacquie Rogers: Thanks for inviting me to the Chanticleer blog.  I've been privileged to be part of the Chanticleer family right from the get-go, so that makes it extra special for me to be here.  I had help, though—the folks at the Pickle Barrel Bar and Books on Facebook choose my questions, so here we go!
Chanticleer: We're so glad you have some time to spend with us. Let's jump right in…What areas in your writing are you most confident in? What advice would you give someone who is struggling in that area?
Rogers: Dialogue and chaos.  For dialogue, the advice is easy—listen to people talk.  Two nuances I've noticed is they rarely speak in complete sentences and seldom use the other person's name.  More specifically, listen to people who are similar to your characters.  In the case of Honey Beaulieu, I draw strength from the old Missourians in our family, and mix in a little Owyhee County speak.  As for chaos scenes, the main thing to remember is that the first thing you think of is also the first thing the reader will expect, so turn left when expected to turn right.
Chanticleer: That's really good advice, Jacquie. How do you keep track of all the… left turns? Do you work with a storyboard? 
Rogers: When a character turns left and it's a better idea than what you'd planned, then it's best to go with them.  However, that does cause a ripple effect on that particular thread, and sometimes several or all threads.  I try to veer into position so I don't have to go back and change things, but very often that simply can't happen.  Either way,  from the turn-left point forward, the whole plot needs to be tweaked.  I'm happy to take the fun route to the end, but I do have to know where and how the story is going to end, and all the characters need to be in the right spot for that to happen, and all (or most, in the case of a serial type series such as Honey Beaulieu – Man Hunter) threads need to be tied in a neat bow.  So it's a matter of connecting the dots in a logical but relatively unpredictable manner that allows the reader to play along with you.  Because books are really a group activity—the interaction of characters, readers, and the author.
Even with all that, continuity errors can and do occur.  My first line of defense is Your WorldKeeper, Diane Garland.  She has an eagle eye for continuity and can take me all the way through the thread so I can see what needs fixing  Or sometimes it can't be fixed (e.g., in a previously published book), and we have to come up with a logical explanation for how things are in the current book.  I work with her as I'm writing, so she usually nails my hide to the wall before even the editor sees the story.
Rogers: An author can't keep writing unless readers buy the books—simple economics.  Books are expensive to produce.  So telling others about the author's books is absolutely gold.  There are a variety of ways to do this, including sharing the author's posts on social media, reviews (many advertising sites require a certain number of reviews before the author can purchase ads), and telling all your friends in real life to buy the book.  Visibility is the name of the game.  And keep reading!  Your enjoyment is a gift to me.
Chanticleer: Thank you for mentioning the social media aspects and sharing. Very important. What are you working on now? What can we look forward to seeing next from you?
Rogers:  My next book will be Hearts of Owyhee #6, Much Ado About Mail-Order Brides.  If you've read the third and fifth books of the series, you're acquainted with the McKinnon brothers.  This book will be Bram's book.  He's the oldest brother and the hardest to place because he's perfect.  Flawed heroes are much, much easier to write.  But since he's perfect, he has to end up in an impossible situation, and I've definitely got him in a big to-do.  Believe me, he has a lot more help than he wants.  I'll start writing next week and hope to have the book done by the end of the year.
Chanti: Oh, we'll be looking forward to that! We love it when characters get knocked around! Let's move on to craft… It's important to work on your craft. What do you do to grow your author chops?
Rogers: I try new techniques.  For instance, I wrote I Heard the Brides on Christmas Day in four points of view—and it's only a 15,000-word story.  I think I pulled it off but believe me, I won't be doing that again!  Also, the Honey Beaulieu series is in first person point of view, and the narrative is written in Honey's vernacular just as if she were actually speaking.  I did this because we think the way we talk, so the narrative can't be in modern correct grammar.  My Hearts of Owyhee series is in the third person.  So I'm always switching back and forth, writing one book in first and one in third.  That gives me the opportunity to remember the strengths in each and apply them in both series.
When I first started writing, I read a ton of craft books.  I was so hung up on the rules that I couldn't write a word for nearly a year, so I tossed it all out and decided the only way to write is to let my hair down and go for it.  Then I heard an interview with Johnny Depp where he remarked that actors had to be brave enough to look stupid (paraphrasing).  I think that goes for writers, too.
Chanti: We love that you were naturally brave enough to follow your gut on this one. And we love that Johnny Depp backed you up on this one… because, you know, Johnny Depp! Let's switch gears a bit – give us your best marketing tips, what's worked to sell more books, gain notoriety, and expand your literary footprint.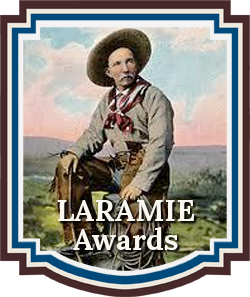 Rogers: Depends on what year, month, time of day.  This business is changing fast.  When MySpace was king, I had a strong presence there.  I've never had much success on Twitter and only go there because I feel like I should.  Facebook is the place to be right now, which isn't to say that it'll still be popular next year.  It's important to have a presence on social media that is personable (notice I didn't say "personal"), where people see you and want to be your friend.  This is what marketing is all about these days—the personal touch.  Frankly, I think we're moving on from social media to real people in the real world contact.  The pendulum is swinging back.  That's why I put on the Silver City event every year, and try to get out as much as possible to meet my readers.
I also think it's important to hang out with other industry professionals—reviewers, publishers, and other authors.  Getting a Chanticleer review and entering the Chanticleer contest is great for raising the discoverability of your books.  Attend the conference and blast pictures all over social media.   The added bonus is that these conferences are lots of fun as well as informative.
Chanticleer: Talk a little more about the Silver City event… What was that like? Who came? How did you set it up – C'mon, Jacquie! Spill the beans!
Rogers: I enjoy getting together with my readers and fellow book lovers, and I had this bright idea that it would be fun to meet where the Hearts of Owyhee series is set, which is in Owyhee County, Idaho.  (Owyhee is pronounced oh-WYE-hee, and is the original anglicized spelling of Hawaii.)  Most of the books in the series have scenes in Silver City, and two of them are set there for most of the story.  Silver City is a treasure that few people know about.  It's a genuine Old West town that still exists as it did in the 19thCentury.  There's no power or telephones—although they did have telephones in the early 1880s.  The Idaho Hotel is a gem and staying there is like spending the weekend in a living museum, although it's a soft landing because they did install flush toilets and showers.  The hotel restaurant has always been known for its fine cuisine and believe me, the current owners are living up to the historical standards.  Jerri Nelson's pies are simply divine.
There's a lot more to say about the place, but I'll go on to the event.  Keep in mind that Silver City is not a tourist town.  You won't find staged shoot-outs or slot machines (that work).  People there live like folks did in the 1800s.  So visitors live like that, too.  What does it mean?  It means that whatever we do, we have to create ourselves.  If we want music, then we need to play it.  I can't play anything so I enlisted the aid of fiddler Daria Paxton and her dad, Matt Paxton, who plays guitar and sings.  They're both talented musicians and old family friends—my dad and Matt's parents were in the same class.  Relationships were everything in the old days, and there, they still are today.
The event in Silver City is for everyone, young and old.  In the olden days, families would come to a dance.  The musicians would play and everyone would dance, including the kids.  Then the kids would play and dance until they got tired, and the parents would put them to bed on the pile of coats while they continued to party into the night.  That's the feeling I wanted to create at our event and we succeeded.  Wildly.  Some of us dressed in costume, others didn't.  No one really cared because we all were there to have a rip-snortin' good time.  Which we did.
Poet Roberta Whittemore joined me at the book signing and that was fun.  Everyone raved about the melodrama, billed as the worst melodrama in history, which had a terrible script (I wrote it), and bad actors (except for Ichabod—he was great, and so were Curtain Rod #1 and Curtain Rod #2).  But the audience participated and had a great time.  The cool thing was that half the audience were walk-ins, not part of the event, and they loved it.  After that, we had an auction for charity.  Sherry Walker chaired the auction with Ken Walker as the auctioneer.  The gals in the kitchen soon learned not to bang pans or he'd call their bid.  We raised over $300 for the Children's Tumor Foundation to find a cure for neurofibromatosis.
So I'd like to invite everyone to join us next year.  The tentative date is July 20-21, 2018.  Information will be on my website at http://www.jacquierogers.com/silvercityevent.html.
Chanticleer: What a terrific event! Thank you for letting us in on Silver City! What do you do when you're not writing? Tells us a little about your hobbies.
Rogers: Reading is my first love, make no mistake about it.  I was a reader long before I ever wrote a single word of fiction.  Other than that, I like rodeo, cooking (but not doing the dishes), and baseball.
Chanticleer: Tell us more! What's your favorite rodeo event? If we came to your house for dinner, what would you cook? and Who's your favorite baseball team? 
Rogers: Favorite rodeo event—well, that would be hard to pick.  Of course, I love the bull-riding but all of the events are fun to watch.  I like all the rough stock events, but then I'm amazed at the ropers, too.  And I know how hard it is to run the barrels without knocking one over.  I also look forward to the specialty acts they bring in.  At the Snake River Stampede, they had the Stampeders—a horseback drill team that performs in the dark so all you see is the lights on the horses and rides.  It's pretty spectacular.
If you came to my house for dinner, you'd get down home cookin'.  I cook everything from scratch—even yogurt and salad dressing.  I do buy mayonnaise, though, because we eat too much of it when I make it myself.  So what's on the menu?  How about homemade bread bowls filled with genuine Idaho potato soup, salad with ranch dressing, and strawberry shortcake (with real shortcakes hot out of the oven) for dessert?  Or maybe you'd like Thai fried rice, spring rolls, and bok choy stir fry.  I'm willing to give just about anything a go.
As for baseball, I'm a Mariners fan, unfortunately.  Go M's!
Chanticleer:  That all sounds good! What led you to write in the western humor genre?
Rogers: Writing westerns was a simple choice—I grew up where the Old West is still alive so I didn't have much to research.  Also, in light of the urbanization of our country and the vast change in communications, I want to do my part to keep the culture in people's awareness.  It's hard to explain to someone how people lived in the late 1800s without television and cell phones, and that's why we have so much fun at the Silver City event.  We're not connected, so we have to create our own entertainment and [gasp] actually visit with one another face to face.
Humor?  I don't actually write humor.  Every time I do, no one laughs.  There's one line in Blazing Bullets in Deadwood Gulch (Honey Beaulieu #3) that absolutely cracked me up, but not one person has laughed or even noticed it. [Update: one person finally got it!  Made my day.]
Chanticleer: Really, no humor? Well, certainly situational, character driven humor. We love your books and love how you put your characters in situations they can't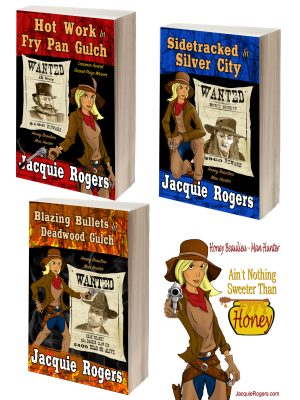 possibly imagine! How structured are you in your writing work?
Rogers: Horribly unstructured and unfocused.  My marbles are rattling around somewhere and they're not even in the same room, or house, or state.  How I ever manage to finish a book is beyond me.  But when the deadline looms, I do hunker down and git 'er done.
However, my approach to writing a novel is quite structured.  I don't write a single word until I know the main and secondary characters inside and out.  The better I know the characters, the easier it is to throw obstacles in their way (that's also called plotting).  I always have one scene in mind for the opener.  But I confess that the opening scene very rarely stays the opening scene.  The first scene I wrote in the Honey Beaulieu series will be in book #5.  The first scene I wrote in Much Ado About Miners is now in chapter 7.  I always start too far in, probably because I have little tolerance for backstory and I want to get on with things.
Chanticleer: We appreciate that, Jacquie. How do you approach your writing day?
Rogers: I always try to leave off in the middle of a scene so I don't have to figure out what I'm going to write.  So after that scene is finished, then I check with my plot bones chart to see if I'm on track.  If not, I turn left.  Actually, I turn left a lot because sometimes things happen on the page that are too fun to throw out, so then I have to make it work with the rest of the story.  An example is Louie Lewie in Blazing Bullets in Deadwood Gulch.  He was supposed to be a throwaway character, but he kept coming into the story, so I resigned myself that he's now part of it.  In fact, he'll probably be in the next book, too.  So a lot of my day is thinking and while I'm thinking, the best way to come up with new ideas is to bake bread.  My extended family gets a lot of bread.
Once everything's figured out for the day, I fire up my laptop and use speech recognition to rough out a scene.  Believe me, "rough" is the right word considering when I said "bustier" it typed "buzzard ears."  I end up with about 90% dialogue.  Then I send the scene to my desktop computer and edit using the keyboard.  If the scene starts out at 500 words, it'll be 1,000 by the time I'm done adding the narrative.  A side note: I detest description and always skip it when I'm reading for pleasure, which means I have to make an extra effort to make sure I've created a picture for the reader.  This is by far my weakest area.
Chanticleer: Ah, bread. Here's the part where we wish we lived closer! The idea of using speech recognition software is pure genius – and time-saving, too. How do you come up with your ideas for a story?
Rogers: I actually don't know.  Usually, some phrase, prank, or predicament makes me laugh.  Then I put characters to it and voila! We have the concept for a new book.  Honey helps me out because I know that if I dig a hole big enough, she'll keep me entertained.
My entertainment is the determiner as to whether I use an idea or not.  If I'm entertained, then I hope the readers are, too.  But on the other hand, if I get bored writing, then you can bet that readers will also be yawning.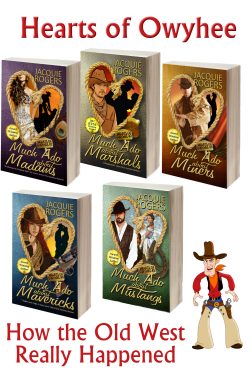 A few of my ideas for books are identifiable, though.  In Sleight of Heart, I wanted to write a heroine who was as good at math as Aunt Grace, and I always wondered how she'd get along with Maverick.  So Lexie Campbell and Burke O'Shaughnessy were born.  The idea for Much Ado about Mustangs came from an article I read in The Owyhee Avalanche about the local theater group booking a national star to headline their local production.  Hence, we have Lady Pearl Montford and local rancher Josh McKinnon, whose heart's desire was to raise Friesians.
The next book I'm going to write, Hearts of Owyhee #6: Much Ado About Mail-Order Brides, came from the fact that the hero, Bram McKinnon, is perfect.  Perfect is boring.  Perfect makes for no conflict.  Unless he's put in a situation where there's absolutely no solution.  Bwahahaha.  Naughty me.
As for Honey Beaulieu, what happens isn't much of a surprise.  What's interesting about her is the journey, so I'm always on the lookout for incidents that aren't exactly your usual bill of fare.  Honey obliges by reacting in ways that surprise me every time.  Of course, she constantly changes the plot, too, which can get frustrating.  But I learned just to go along for the ride and let Honey take me with her.  We get along much better that way.
Chanticleer: And what a ride! Thank you, Jacquie, for being our first interview of the year! We love what you do and love how you do it.
Rogers: Thanks again for inviting me here today!