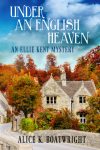 Publisher: Cozy Cat Press (2014)
Buy the book now at:

Amazon
Author's Website
Can a Californian College Professor find true love with her English Vicar husband while under suspicion of murder in his small town?
Under an English Heaven – An Ellie Kent Mystery by Alice K Boatwright is a cozy mystery with a very American protagonist set in a very English village. Ellie Kent is said American, newly married to the village Vicar, Reverend Graham Kent. It's the second marriage for both of them. Ellie is a former University English Classics Professor from California and her husband, Graham oversees St. Michael's and All Angels' Church in Little Beecham and is the widowed father of a college-age daughter.
Ellie is also a skeptic about faith, something her new husband seems bemused by. Although she has taken to wearing tweeds and walking the Jack Russell named Hector, Ellie can't help but feel out of place in the shadow of Graham's first wife, Louise, whom all the village seemed to hold in the highest esteem. Louise also was the one many of the congregation turned to with their secrets. As Ellie says to her new husband in the very beginning of the novel "No matter what I wear I'll never be Mrs. Vicar of Little Beecham. People will always think of me as the young wife who snared you on that unfortunate sabbatical in California".
Ellie is just settling in when she finds a body in the graveyard next to the vicarage after some mischief in the church on Halloween Night. No one in town seems to know the man, but his new British clothes are at odds with his worn Italian underwear (this is important to the plot…I promise).
As with most cozy mysteries, the police suspect Ellie for the simple reason that her first husband was an Italian-American poet and they once lived in Italy, and she is a "foreigner".
When another death occurs, and Ellie is given a found book of Italian poetry written by the first victim, the mystery deepens and Ellie finds herself trying to figure out who the killer is while also trying to figure out her place in the village, the church and in her marriage, while also trying to stay out of jail.
The events of the novel start the day before Halloween and extend to Remembrance Day (November 11th) including All Saints Day, All Souls Day, and Bonfire Night-a tribute to the failed gunpowder plot of Guy Fawkes (made famous in the graphic novel and film "V for Vendetta").  Each of these days are unique celebrations for an American experiencing them for the first time.
Twists and turns a plenty, along with great pacing and quirky characters, make Under an English Heaven an entertaining classic cozy mystery. Boatwright adds just the right amount of descriptions of the bucolic village landscape and teas to make any one who loves all things British happy juxtaposed against an adventuresome contemporary American amateur sleuth. A second delectable Ellie Kent Mystery is promised sometime this year.