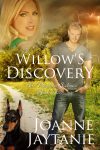 Publisher: Joanne Jaytanie Author (2015)
Buy the book now at:

Amazon
Author's Website
More danger lurks around the Winters Corporation with Willow as the next target in Willow's Discovery, book three of the romantic thriller series by Joanne Jaytanie.
Willow enters her office one morning to find it completely trashed.  Fortunately for them, the Winters Corporation's files weren't touched. But Wyatt Farraday, Tristan's brother, believes that this was an inside job and he thinks Willow should use her newfound aura skills to interview the corporation's staff in an attempt to uncover a mole. The interviewing process leads to clues that Biotec (connected to the infamous Kaleidoscope Group) is indeed spying on the Winters Corporation.
Meanwhile, Willow plans to meet with a potential buyer for her parent's old complex. But when she gets there, things go from eerie to dangerous as a strange man attempts an attack. Although Willow narrowly escapes, she can't shake the memory of the event – which is understandable – but moreover, there is something about the man that seems familiar… Willow is shocked to realize she knows the man's voice. Now, if only she can place it.
Willow's experience is nothing less than unnerving. Yet, she has no idea that there will be more attempts on her life. Amid unsettling scenes, a burgeoning romance ripens between Willow and her protector, Wyatt. Whether or not Wyatt can successfully shield her from harm remains to be seen, especially when she finds herself face-to-face with her stalker.
Winters series' fans have much to look forward to in Jaytanie's third installment. Willow's Discovery is a nail-biter and as more familial secrets surface, danger mounts for Willow! Jaytanie surrounds Willow with both favorite and dark characters from the previous novels—plus a few new members—and then places her cast within settings that are a balanced mix of engaging dialogue, suspense, romantic tension, and steamy love scenes. Of course, as with Victory and Payton in books one and two, Willow not only discovers but also must find a way of embracing her own set of telepathic abilities in order to survive the road ahead.
Joanne Jaytanie aptly incorporates back-stories from the previous books a little at a time and savvy readers new to the series will want to go back and read from the beginning. Each book is truly a stand-alone story, but readers of the romantic thriller genre won't want to miss one word of Jaytanie's hot, steamy action scenes and compelling storylines.  Jaytanie closes Willow's Discovery with an eye-opening cliffhanger—a perfect set-up for book four, Corralling Kenzie.
Thrilling and tantalizing, Joanne Jaytanie's third book in the Winters Sisters series, is sure to please loyal fans and have new readers begging for more in Willow's Discovery.