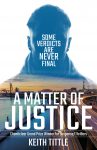 Publisher: Keith Tittle (2017)
Buy the book now at:

Amazon

Author's Website
When Jefferson Dawes is called in on a cold case, he will be forced to revisit his past – both professional and personal. His old friend and former workmate Alex Burwell, now deceased, was sure that Jeff was the right man to investigate a series of suspicious "accidental" deaths, all linked directly to a trial that took place three years ago. Those deaths now include Burwell's own mysterious demise.
Three years ago, a nice young man with no blot on his name was imprisoned when circumstantial evidence piled up to convict him of a brutal, sexually tinged killing. He never denied the crime. He died in prison. Now the judge who tried the case, the jury foreman, and several others connected to the conviction are also dead, each lost to freak happenings: a boat explodes; a man jumps off a bridge; a body is found in a rental car.
Tough-minded District Attorney Cynthia Orbison, who sees bonds of coincidence between the current killings and a vicious Latino drug lord she is trying to bring down, hires Jeff away from his job with a security firm and sets him up in his former workplace among her staff. He's tasked with using his investigative skills to go through the evidence Alex compiled before he suddenly passed away. Cynthia gives Jeff a team: Samantha, or Sam, young, smart and anxious to prove herself; and Paul, a little older, seasoned and cautious. Their lives are at risk despite measures taken to keep the case under wraps. And even as they plug away at a solution, a methodical killer is stalking and slaying more hapless victims.
Tying all the threads together will be Jeff's job, as he examines a jumble of apparently unrelated facts. He discerns links to the Russian mafia, Latin drug cartels, and some sad but very human motivations that have remained hidden over the years. As the team gathers testimony from various witnesses, Dawes sees the circle tightening around one suspect whose deviant brilliance may yet prevent the hoped-for apprehension.
Author Keith Tittle rings all the challenges in this complex, gripping mystery. His story combines diverse elements lending the story opportunity for multiple mayhem. Jeff Dawes is a believable hero – determined, diligent, dogged by past failures that spur him to try harder. The setting – Portland, Oregon, with its scenic natural environs makes for a variety of well-staged scenarios.
A gripping, page-turning novel poised to entertain thriller fans across a wide spectrum. A Matter of Justice by Keith Tittle provides the lead-in for a new series from a promising new author.