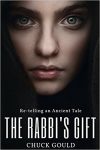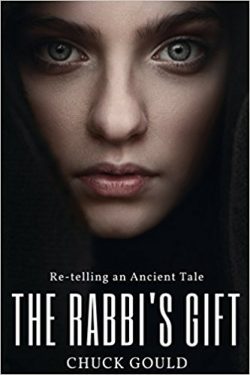 Publisher: Neoteric Publishing (2017)
Buy the book now at:

Amazon
Author's Website
Faith and fact weave together in a beautifully rich tapestry of fiction and fantasy set in ancient times that presents plausible answers to long-standing mysteries in Chuck Gould's The Rabbi's Gift.
When the wealthy merchant Eli encounters master builder Yakob and his impetuous son Yusuf in a dispute with the despotic ruler Herod, he intervenes, saving them by employing them to work on a project of his own. They will help construct a new mansion for Eli's son, Aban, who is soon to be married.
But what will become of Aban's twin, Miriam? Miriam is the first-born and as custom demands, should marry first, but what man would want her? With her quick-wit, unconventional bent, and a strong rebellious streak, everyone knows she is unsuitable for the position of dutiful wife. Besides, every suitor her father presents to her, she stubbornly rejects.
Yusuf and his father work diligently for Eli. Yusuf constructs stunning mosaic courtyard imbued with astrological and scientific significance. As the work continues, Miriam clandestinely assists Yusuf and before long, the two fall in love. Of course, such a match could never be. Miriam is wealthy, and Yusuf is only a humble tile setter. But, some prophecies and priestly visions are far more powerful than worldly considerations. What obstacles must be overcome to allow twists of faith, fate, and fortune to fall into place and open the door for the couple's true and epic love?
Author Chuck Gould has created a remarkable blend of Biblical characters, legends, and speculations in this star-crossed romance between Miriam and Yusuf. He depicts Miriam as a healer whose remedies are nothing short of miraculous, and Yusuf as an unschooled savant in mechanical, scientific, and philosophical knowledge. Gould also draws on a myriad of dramatic players – some of whom are firmly set in historical accounts, which serves to create a multiple viewpoint story, widening the scope of his novel without distracting the reader.
Gould's handling of this grand drama shows a true grasp of the writer's craft. He deftly combines various elements from lore throughout his storytelling making The Rabbi's Gift a powerfully rich tale. Using older spellings and secular text, along with Gould's strategic planting of clues along the way, fortifies the story and draws the reader in.
Babylonian astrology and Jewish mysticism combine with Roman history to create a timeless story of passion and fate in Chuck Gould's The Rabbi's Gift.