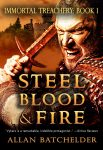 Publisher: Amazon Digital Services, LLC (2013)
Buy the book now at:

Amazon
Author's Website
Tarmun Vykers, the central character in Allan Batchelder's accomplished fantasy, has many epithets: "The Scourge of Empires," "The Reaper," "The Merciless One," and sometimes just good old "Vykers the Vicious." He's very aware that he's widely feared but not admired, and that's just fine with him. He's not the sentimental type.
On the other hand, he's darn likable. Why? Well, he's smart, witty, and often sarcastic, but he's also able to laugh at himself and the many predicaments that befall him. And he's not the worst guy around.
No, that would be Anders, better known as "The-End-Of-All-Things." The-End is not likable.  Far from it. When one's goal in life is taking enormous satisfaction and delight in the destruction of everyone and everything, you don't have friends, you just have people who do your bidding because they're terrified of you.
Of course, a showdown between Vykers and The End is going to happen – and Batchelder has lots of fun getting us ready. In this world, the very weapons used have almost as much personality as characters who wield them. Along the way, we meet the cast, many of whom will prove invaluable to Vykers on his quest.
And what a cast! Batchelder provides a lengthy list at the novel's conclusion but they're all so memorable, the reader doesn't have to consult it often. For starters, there's Arune, a shapeshifter who has taken up residence in Vykers' mind where she reads his thoughts and responds with zingers of her own. Some of the most memorable scenes in the book, in fact, take place with Vykers seemingly talking to himself, but really, it's Arune matching his wit, sentence for sentence. There is so much more to explore and fall in love with, we won't ruin it for you here.
If this all sounds like a lot of fun, it is. It's easy to imagine Monty Python fans reveling over many of these scenes. This fantasy, however, has more to offer. The humor is adroitly balanced with darker chapters concerning primal fears and terrors.
Steel, Blood & Fire will appeal to a broad group of readers. Although primarily a fantasy, the classic themes of fairy tales, myths and folklore are woven into the narrative.  Good versus evil, the gaining of self-knowledge while on a quest or a journey, transformation through enchantment – it's all here but with a twist because Batchelder so deftly juggles ribald humor and unexpected poignancy.  He also allows the reader to view these themes through several lenses.  This is particularly true in the battle scenes, the author giving us the individual experiences of several of the male characters.  While there are fewer female characters, they are quite strong, fully realized, and residing in the forest and the castle, the folkloric motifs of the poor and the royal in play.
The great news is the book is the first in the series Immortal Treachery. Batchelder concludes Steel, Blood & Fire on a tantalizing note and there's clearly much more material to be mined. If it's as fully realized as this book, the entire series is a must read.
Fairy tales, myths, and folklore collide in Batchelder's first book in the Immortal Treachery series, Steel, Blood & Fire, rollicking fun and seriously addictive read.