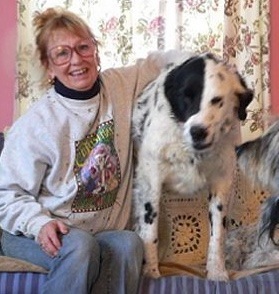 Author Spotlight Series focuses on Linda Watkins, an American Contemporary Gothic Author
Linda Watkins' bio on Amazon is juicy and packed full of wonderful. She hails from the right side of the country – Detroit and has resided in places like Sedona, Arizona,  San Francisco Bay Area, and back to the east coast – to an island off the coast of Maine, to Mateguas Island, the studied focus of her first three books.
She is a super-hero in her own right, rescuing dogs and organizes groups to help after disasters strike. We love Linda Watkins. And recently I had the chance to chat with her regarding all things writer-ly. I hope you enjoy reading this interview as much as I enjoyed conducting it.
Here is Linda Watkins…
Chanticleer: Tell us a little about yourself: How did you start writing? 
Watkins: I started writing in earnest when I was living on Chebeague Island which is located off the coast of southern Maine. My work before that time consisted of poems, songs, and an occasional whimsical short story. I never thought about publishing any of these works. They were just for fun. However, in 2010 when I got my first iPad, I decided to try to write one of the many longer stories that were rattling around in my brain. The iPad was important in this endeavor because I had issues with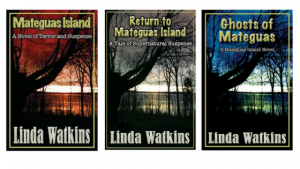 my back that prevented me from sitting at the computer for long periods of time.
In addition, living on an unconnected island (access only by boat), you have a lot of 'down' time – waiting for the ferry, riding the ferry, etc. Writing gave me something to do to pass that time more quickly. I wrote the first draft of my debut novel, Mateguas Island the summer of 2010. I didn't publish it until Spring 2014.
Chanticleer: Technology helps us in so many ways. Thank God for the iPad! Let's chat about genre. What genre best describes your work? 
Watkins: Most of my work is described as contemporary gothic fiction. The Mateguas Island Series could also be termed supernatural suspense with elements of romantic suspense intertwined. My novella, Sarah & Zoey, is women's fiction. Summer Girl, an unpublished manuscript, is literary fiction, and my new novel, Storm Island (also unpublished at this time) is a contemporary gothic mystery. So, I guess you could say that while my main genre is gothic fiction, I do write in other genres as well.
Chanti: Okay, Women's Lit, but mostly Gothic/mystery. I like it. What led you to write in this genre?
Watkins: I've always been drawn to novels in the horror and/or thriller arena. I grew up on Stephen King, Shirley Jackson, Peter Straub, and Dean Koontz. In essence, I like my horror firmly grounded in reality with strong, unforgettable characters. Thus, I try to write what I like to read. In addition, I enjoy writing gothic because you can over the top with it and it lends itself to strong, female protagonists.
Chanti: That's exactly the reason I love Gothic novels! Let's shift a little here… What do you do when you're not writing? Tells us a little about your hobbies.
Watkins: I'm a pretty solitary person. I believe this stems from the fact that I have a congenital hearing loss that was not identified until I was practically out of high school. Thus, I lived within myself for a long time. My best friends are my dogs. I lost two of my 'kids' this past June and it has been very hard for me since. Right now, I only have my puppy, Chomps. When I'm not writing or with him, I can be found at the local Humane Society walking shelter dogs. I'm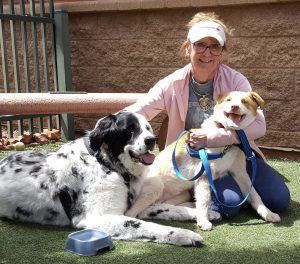 a strong advocate for animal welfare and all net proceeds from my Mateguas Island Series go to my charitable trust, The Raison d'Etre Fund for Dogs, Dedicated to Rescue and Research. Our most recent grants have gone to two grassroots organizations in Eastern Texas to aid in the care and re-homing of animals lost or abandoned in the wake of Hurricane Harvey. I'm very proud of the work my trust does.
In addition, I've recently moved to Sedona, Arizona and spend a good deal of time hiking the red rocks that surround my new home.
Chanti:  We love authors with passion. We thank you for your aid for caring and re-homing animals lost or abandoned in the wake of Hurricane Harvey. How structured are you in your writing work?  How do you approach your writing day?
Watkins: I'd say I'm pretty unstructured. I write most of my novels in my head first. I don't outline or do character sketches or anything like that. Everything that takes place in one of my novels is worked out solely in my head. When a scene or chapter is complete, I sit down at the computer and put it on virtual paper. Most of my 'head' writing is done while hiking, walking my dog, and late at night when I can't sleep.
Chanti: That's a busy day! What areas in your writing are you most confident in? What advice would you give someone who is struggling in that area?
Watkins: I would say my strength is in characterization. Most of my editorial reviews cite how realistic my characters are. I think this is very important when you're writing in my primary genre. Horror becomes more frightening when contrasted with characters who are firmly rooted in reality and identifiable to the reader.
As for advice, I'd suggest a writer fully flesh out his/her characters in his/her mind before writing them down. Know their backstory. You don't have to include everything in the final work, but you, the writer, must know it. Also, if you're writing a series, it's fun to develop and change your recurring characters over time just like real people do. In the Mateguas Island Series, I have actually taken a character who, in the first book, is close to perfect and totally destroyed him by the end of the third book. That's one part of writing that's great fun!
In addition, as a reader, I can say that one of the things that will kill a book for me fast is if I don't care about the character(s). I don't have to like them, but I do have to become invested in their fates.
Chanti: Great point. Thank you for mentioning how creating real characters essentially equals reader investment. It is so true! Moving along, it's important to work on your craft. What do you do to grow your author chops? 
Watkins: Mainly, I read others' work. I'm a member of the Horror Writers Association and, as such, have access to all the works nominated for the Bram Stoker Awards. I read a lot of them. Also, I'm a member of Library Thing's Early Reviewer Program and I score quite a few free books from there. Thus, I am always reading something, usually in my genre or related genres, and this helps me grow as a writer.
Chanti: You are so smart! Finding good books, award-winning books, or pre-discovered books always thrills me. Can I ask, what are you working on now? What can we look forward to seeing next from you?
Watkins: I have two unpublished novels right now. I will probably publish the first, Summer Girl, a comin
g of age love story, sometime before the end of 2017. The other, Storm Island, a gothic mystery, which I just completed, is being shopped around to agents, etc. I also have a novella, Sarah & Zoey, on preorder. The publication will be on September 15th. (This book is available to readers now! Please click on the link, read, and write a review!)
Next on my writing agenda is the 4th (and final) installment in the Mateguas Island books and the 2nd installment in the Storm Island Mystery Series.
Chanti: I am so happy to hear that! Good luck with the shopping around and I am so excited for the 4th Mateguas Island. I can't wait to read the Storm Island Mysteries! What is the most important thing a reader can do for an author?
Watkins: Review, review, review! Reviews are very important and they don't have to be lengthy. If you liked a book, review it! I review every book I finish. Readers can also recommend books they like to their friends. Word of mouth is the best way for a book to get noticed.
Chanti: Linda, it's been a pleasure having you participate in our Author Interview Platform! Thank you for spending some time with us and sharing your insights. I'm sure we are all looking forward to reading more award-winning novels from you!
Linda is a member of the Horror Writers Association, The Great Lakes Association of Horror Writers, The International Association of Crime Writers (N.A.), and the Authors Guild.
Serious about dog welfare and rescue, all net proceeds from sales of The Mateguas Island Series are donated to Linda's charitable trust, The Raison d'Etre Fund for Dogs, Dedicated to Rescue and Research.
Please visit Linda at her website (www.lindawatkins-author.com), her blog where she posts book reviews and other features (www.lindawatkins.biz) and/or her novel website, dedicated to the Mateguas Island Series (www.mateguasisland.com).
* 2014 Gold Medal, Supernatural Fiction, Readers Favorite International Book Award Competition
* 2014 First Place Award, Contemporary Gothic, Chanticleer Book Review, Paranormal Awards 
* 2015 Outstanding Novel in Horror/Suspense, IAN Book of the Year Awards