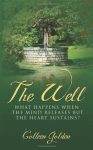 Publisher: Outskirts Press (2013)
Buy the book now at:

Amazon
The subtitle of Colleen Golden's lovely book, The Well, asks a searching question:  "What happens when the mind releases but the heart sustains?"  There are few greater mysteries and that's exactly why this charming and touching novel will appeal to so many readers.
At the outset, the central character, seventy-six-year-old Grace, has been in a coma for a few months. That doesn't stop the feisty and funny protagonist from addressing readers, however, and taking us with her on a transcendental journey in which we'll meet many of her family members and friends.
While her grown children sit in her room at the nursing home and worry about her being in a seemingly vegetative state, Grace hears every word. The voices seem to be coming from deep within a well, and she sits gingerly on the edge of that well, sometimes leaning over it to eavesdrop more carefully. She reminisces about her life spent in the Midwest, musing about her dimming short-term memory, and shares vivid recollections of flappers (she herself is a great dancer), the first telephones, the excitement over indoor plumbing, radios, televisions, highways, and rockets to outer space.
It's a joy to spend time with Grace in this limbo dimension because she's a thoroughly engaging storyteller and a very astute observer of the human condition. While she seldom judges, she's quick to point out mischief, like the time one of her sisters stole a boyfriend from another sister, or when teenagers slipped into a vacant house for a romantic rendezvous. So many of Golden's characters are familiar; they remind us of people we've known, people we've lost, and people we dearly miss.
As time goes by, Grace realizes she can do more than just listen to people. She experiments with "dissolving" into their thoughts and discovers that she can help them solve dilemmas and find their way out of difficult and sometimes dangerous situations. She herself finds her way to her old kitchen, where she's happiest, and starts to bake. While she used to make delicious cakes and pies, she now kneads the dough to fashion a puppy who bounds to life and becomes an adored companion. Well, if that works, why not make people? She does just that, an entire cast that includes old friends and her deceased husband who looks just as he did when he was a handsome, young man.
Grace creates streets and buildings and before long has created an entire town which she names "Possibilities." Not bad for an elderly woman in a coma! There are reasons, revealed carefully, for all of Grace's creativity, as well as lessons to be learned from these paranormal sojourns. Grace has lived a long life but there are loose ends to be tied before she discovers what the next chapter holds for her.
This material in a less gifted author's hands might run the risk of sentimentality or frivolity, but Golden wisely has Grace contemplate the sadness of life, along with the joy. There are nocturnal activities at the nursing home that, when discovered, enrage and devastate her children.
Everyone knows heartache and loss, and Grace has lived long enough to experience her share. In a moment that brings Emily of Our Town to mind, Grace glimpses her deceased mother, describing the scene thus:  "The sun's brilliance silhouettes her against the horizon, and bedazzles the grass into a field of emeralds."  Golden's prose is imbued with a wistful nostalgia, so perfect for a book that considers the variedness of life and the questions of death.  While we don't know all the answers, this novel helps us realize that because "love makes a good conduit," the possibilities are, indeed, endless.