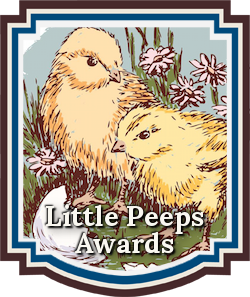 The LITTLE PEEPS Writing Competition recognizes emerging new talent and outstanding works for Early Readers and Children's Picture Books.
The Little Peeps Awards is a division of Chanticleer International Writing Competitions.
More than $30,000.00 dollars worth of cash and prizes will be awarded to Chanticleer Book Reviews 2017 writing competition winners!
The Little Peeps Book Awards for FIRST IN CATEGORY sub-genres are: Early Reader Chapter Books, Story Books, Picture Books, Activity Books, Educational Books.
These Authors and their Works made it past the first rounds of the 2017 Little Peeps Early Reader Book Awards are:
Sandy Hill – Play Ball, Have Fun Read, Imagine, Draw
Kizzie Jones – A Tall Tale About a Dachshund and a Pelican: How a Friendship Came to Be
Deanna Edens – The Almost Cool Kids Club
Penelope Lagos – I Miss My Best Friend
Brian Estes – Flying Pigs & Dinosaurs & Things You've Never Seen Before
Sylva Fae – Rainbow Monsters
Lori Mullen – The Horrible, Nasty, Fire-Breathing Dragon Named Achoo!
Marshall Cobb – River Tree
Wanda Carter Roush – Angel on Assignment
Amy Mae Boreman – Maggie's New Home
Lauren Mosback – Frightened in Friendship Grove
Stacie Sullivan Simon – I Am Me & You Are You
Laura Tritt – Big Hope
Shana Hollowell – Little Mouse's Sweet Treat
Heather Pallotta – Wishes and Kisses
Rita Kaye Vetsch – The Many Colors of Friendship
Peggy Sullivan – Midnight and Moonlight
Peggy Sullivan – The Moon and Star
These Little Peeps 2017 authors and their works  will compete for the Little Peeps Short-List Positions.
As always, please do not hesitate to contact us with any questions, concerns, or suggestions at Info@ChantiReviews.com. 

The Little Peeps Grand Prize Winner and First in Category Winners will be announced at the April 21st, 2018 Chanticleer International Writing Contests Annual Awards Gala, which takes place on the last evening of the Chanticleer Authors Conference that will be held in Bellingham, Wash. 
We are now accepting submissions into the 2018 Little Peeps Book Awards writing competition. The deadline for 2017 submissions was May 31st, 2017. We are now accepting submissions into the 2018 Little Peeps writing competition. Please click here for more information. 
Pictured on the left are the 2016 Little Peeps Book Award winners: Sara Dahmen, Denise Ditto Satterfield, & Donna Washington with their blue ribbons on April 1st, 2017 Chanticleer Reviews awards banquet ceremony.