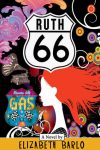 Publisher: CreateSpace (2014)
Buy the book now at:

Amazon
Author's Website
When a banged-up old bus pulls into his family's driveway, Charlie has no idea that the rattling junker would be his ride to freedom. For years he'd been suffering under the thumb of a cold-hearted mother and a vindictive twin sister, while his father languished behind bars for tax fraud. The only family member with whom the young man held a loving bond was his grandfather, Opa Bill. Since Bill's recent death, Charlie has been holding it together by listening to the music he and his grandfather loved. That musical thread weaves its way throughout the story as a sort of narrative jukebox.
Now Charlie's respectable Oma Ruth has careened back into his life in a shocking new incarnation: a freewheeling hippie in kaftan and beads, unafraid to swap barbed words with her appalled daughter, nor to insist that Charlie accompany her on her road trip. He's dead-set against it—he'd just found his dream job at a record store—and is disgusted when his mother dumps him on her mother without hesitation.
So Charlie sets out with Ruth—and, as it turns out, with Opa Bill, whose urn rests on the dashboard. At first, Ruth's bizarre behavior and Charlie's resentment at being dragged along make for a very uncomfortable ride. She insists on traveling without modern technology, but when she relents and allows his iPod and a new stereo system, the thaw begins.
Although Route 66 is the road they travel as they head west, this is no travelogue about nostalgic remnants of yesterday. This is a journey of discovery: of Charlie's strength and capacity to love, of Ruth's ability to be honest with herself, of her secrets and those of her late husband; and of the people who will teach them along the way.
There's the comical Count Doobie, and Jonas the Swede, who appreciates Ruth's beauty and makes her feel truly free. There's also heartbroken Barry, who with his daughter Rosie barely keep afloat a strip joint in the middle of nowhere, Texas. And there's even Charlie's embittered sister Becky, who rediscovers compassion and her affection for her twin away from their mother's toxic influence.
Above all, there's Rosie, the beautiful young woman who pines for her missing mother and valiantly offers to become a stripper to help her father's business. She sets Charlie's heart and hormones on fire, turning him into a bumbling puppy before he learns to overcome his insecurities and grow into a hero of sorts. Their relationship becomes entangled in the revelation of Ruth's secrets, but the resolution is both satisfying and a bit of a relief.
A word of caution to the straight-laced reader: Ruth has embraced the hippie lifestyle to its fullest, and so you'll find pot-smoking, swearing, nudity, and sex, as Charlie and Rosie let loose their teenage hormones and Ruth re-engages her lost libido. But far more than that, there is love, forgiveness, and bravery on this journey, not to mention a lot of laughs, some wonderfully wacky moments, and at times exciting and literally explosive revelations.