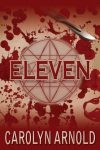 Publisher: Hibbert & Stiles Publishing Inc. (2011)
Buy the book now at:

Amazon
Author's Website
Carolyn Arnold's absorbing crime thriller, Eleven, is taut with suspense from the very first page.  Brandon Fisher, just starting his two-year probationary period with the FBI Behavioral Analysis Unit, is doing his utmost to impress his supervisor, the legendary Special Agent Jack Harper, as they survey a shocking crime scene.
They're standing in an underground dirt bunker with tunnels that lead to small, circular rooms with chicken wire pressed against the dirt walls.  There are ten corpses in all, their bodies marked with identical incisions that tell a tale of ritualistic torture and murder.  Only one victim has not been disemboweled.  Brandon, growing more claustrophobic in the bunker by the second, struggles to show no emotion in front of unflappable Jack, but that's difficult when he realizes the bunker contains a room for an eleventh victim.  Before long, Brandon will learn that he very well could be the serial murderer's next target.  Could his first case be any more difficult?
The forensic team ascertains that the killer is highly intelligent and disciplined.  While they have an immediate suspect, the team is also certain that the killer had a helper.  Most of the book focuses on discerning who, amongst a large group of possibilities, serves as the accomplice.  This second perpetrator is thought of as a "follower" or an "apprentice." This mentor-apprentice relationship unnervingly echoes the relationship between Jack and Brandon.
Readers who are drawn to crime thrillers will not be disappointed with the details Brandon, Jack and the rest of the team sort through as they gather evidence.  As the title of the book indicates, the number eleven is a key clue.
The dialogue involving the latest method s for extracting DNA from objects and lifting fingerprints indicates the author has done her homework; she integrates scientific details nicely into the plot.  In fact, each member of the team is distinct and well realized.
This book is a fast read as the writing is straight-forward and engaging. Arnold leads the reader through some winding plot twists and each one is more riveting than the last.  Suspense builds and builds and the ending is every bit as shocking as the opening pages of the novel.  Although Jack tells Brandon, "This isn't like TV," there's no doubt that fans of shows like CSI (in its various locations) and Criminal Minds (which has a small cameo) will want to read Eleven.  Readers will find the book difficult to put down – and, if they do, they may very well sleep with the lights on.
A lead FBI agent hunts his prey and grooms his apprentice while a ritualistic killer does the very same thing. Riveting and disturbing, Eleven, is guaranteed to thrill and terrorize readers.