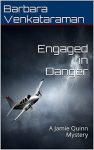 Publisher: CreateSpace IPP (2017)
Buy the book now at:

Amazon
Author's Website
Did I really lose my guy to a Hairy-Nosed Wombat … a Northern Hairy-Nosed wombat? That's the question that plagues attorney Jamie Quinn while she lays awake and stares at the ceiling every night. But it's not too long after her boyfriend, Kip, drops his Save the Wombat bomb and flies off to Australia, that she has more immediate issues to keep her awake—secret business machinations, a hint of Russian collusion, blackmail, and murder, for starters.
In Engaged in Danger – A Jamie Quinn Mystery by Barbara Venkataraman anything is possible. And even though Hollywood, Florida where Jamie lives and practices family law is a small, quiet town surprising things happen there.
Three days after Kip announced his temp job and is packing for a three-month stint in Australia, an elegant, older woman walks into Jamie's office seeking a divorce. Someone is trying to kill her spouse, but she doesn't care—she just wants a divorce, and money is no problem. Interest piqued, Jamie soon learns the husband in question is the most "famous/infamous" (translated, rich, powerful, and politically connected) attorney in town. He also proves to be a crafty, dangerous opponent with fingers in many pies. On the home front, Jamie's neighbors who are caring for their orphaned niece, ask Jamie to look into the details surrounding the recent plane crash that killed the child's parents.
Enlisting the assistance of her BFF, corporate attorney Grace Anderson, along with that of the charming PI, Duke Broussard, a good old Louisiana boy who has one foot on either side of the law, Jamie simultaneously takes on the high-profile divorce case and the suspicious airplane crash. What ensues is an intriguing mix of characters and events interwoven into a mystery that satisfies even the pickiest fan.
While written as a stand-alone, this book is like a gift of Babushka dolls. Allusions to backstories and Jamie's history with Kip, with her dad in Nicaragua whom she's never met, with Grace, and with Duke can at times be distracting, at other times, tantalizing.
Engaged in Danger is a fast-paced, well-written cozy with its complex, quirky characters, and unique plot brings unexpected twists and turns and has more than a bit of romance tucked between its pages. Venkataraman tempers the story with wry, self-deprecating humor that entertains and engages the mind, tickles the funny-bone, warms the heart, and leaves the reader ready for more.