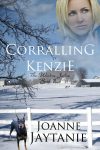 Publisher: Joanne Jaytanie (2016)
Buy the book now at:

Amazon
Author's Website
Jaytanie veers off the sister track with her introduction to brand-new characters in her latest sizzling Winters Sisters Series read, Corralling Kenzie.
Kenzie Vaughn leaps out of her bed in the dead of night, responding to a cry from her horse. She discovers Boone shot and bleeding out. Kenzie contacts her neighbor, Victory Winters, who happens to be the closest vet in the area. While Victory is tending to Boone and Kenzie, Logan Mendoza, one of the DNA-enhanced Special Operations Command team (SOCOM) who investigates her ranch, is confident that the notorious Kaleidoscope Group (KG) used the mysterious shooting to get to Kenzie. Further probing indicates that Kenzie's background may provide essential clues, particularly from her brother, Marcus who was sent to an institution when he was seven.
It is during an attempt on Kenzie's life that she encounters Marcus. He, in turn, sets up a meeting with SOCOM to divulge the connective tie with KG. Indeed, KG is in the process of furthering their diabolical DNA experimentation, and Kenzie is a key player. More information unfolds with each day as Kenzie develops friendships with the Winters sisters. During Logan's assignment to guard Kenzie, the two become close, and their friendship evolves into a steamy romance. Logan determines to keep her safe even while he's away on a brief mission. But upon his return, Kenzie is not around. She's been kidnapped!
For fans who are caught up in the lives of the Winters sisters, they are in for a big surprise with Jaytanie's fourth installment. Up to this point, books one thru three have mainly concentrated on Victory, Payton, and Willow and KG's sinister schemes directed toward the girls. But with the addition of the sisters' neighbor Kenzie, Jaytanie opens the door to a whole new world of outsiders who have fallen prey to DNA tampering. Although pseudo-realism in design, this chilling realm into the dark side of medicine is reminiscent of the grisly experiments on children throughout history.
Jaytanie does a stellar job balancing the bad and ugly with the good, and "good" comes in various forms, the most obvious from the alpha-male SOCOM team and the Winters sisters. But on a deeper level, Jaytanie has created relatable characters; their near-realistic personas are riddled with strengths and weakness, even on a romantic playing field. Certainly, when Logan and Kenzie get their mojo on, it's steamy. Leading up to those moments, Jaytanie sets an example of what a beautiful friendship should look like—slow but steady.
As with all of the books in this series, Corralling Kenzie functions perfectly well as a stand-alone read. There is richness when readers start from the very beginning of the series. Let's just say that Jaytanie is a master of all things and will thrill and delight new readers as well as her loyal fans with this new installment.
The exciting aspect of this series is that book four does not complete the set. Closing on a major cliffhanger, Jaytanie has much more in store for her beloved audience. Stay tuned!