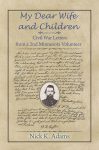 Publisher: Strategic Book Publishing & Rights Agency, LLC; annotated edition (2015)
Buy the book now at:

Amazon
Author's Website
Collected and annotated by the great-great-grandson of a Union soldier, these recollections of the Civil War take on new life and meaning in current times.
Nick K. Adams, a retired schoolteacher and Civil War re-enactor, was fortunate to have access to letters written by his ancestor, Brainard Griffin. A Minnesota farmer, Griffin volunteered to fight for the Union, leaving behind his wife Minerva, their two young daughters and baby son. His first letter home was written on September 30, 1861. The letters, 100 in all, express his longing to be back home while describing in often minute detail the life of an ordinary combatant.
Griffin wrote the letters in quiet times, holding a board or his knapsack on his lap as a table. The repeated themes are poignant: loving messages to his wife and children, advice for the management of the farm, even bits of gossip.
Money worries were constant; at one point Griffin washed the clothes of other soldiers so he could send more of his pay back to his family. Around the mid-point in his service he avows that, "experience is a good school," assuring "Nerva" that when he returns, he will "prize" his time with family and home.
Griffin's regiment traveled extensively through Kentucky, Tennessee, and Alabama, constantly on the alert, experiencing battles, sickness and the travails of heat, mud, and snow. He observed the ravages of war in the farming communities and burned-down towns he passed through and saw firsthand the horrors of a field hospital. He met slaves and engaged them in personal conversation. He often lamented "the curse of slavery" and vowed to fight to end it. From the outset, he believed that the war would soon be over—in a few months, or a year at the most. His accounts of mealtimes indicate the increasing stress on the army's resources: from coffee twice a day, pancakes, beef, fresh fruits, even pies, to half rations for months at a time, and towards the end of his accounts, mostly salted meat and crackers.
Despite his optimism that the war would soon end, and his repeated visions of returning to Minerva and the children, Griffin was killed in the first few moments of the savage Battle of Chickamauga, two years after his first letter home, and was buried by Confederate soldiers in a mass grave.
Adams has taken care to present the letters in their original form. Before each section, he highlights the coming contents and includes a map of troop movements. Though there is repetition, it seems fitting that almost every letter begins and ends with loving greetings to Griffin's wife and children (some written directly to the girls), and that all express the simple daily trials of the foot soldier. Griffin had illnesses, lost teeth, grew a beard, and never ceased encouraging his wife in her work on their homestead.
His homey remarks and even a bit of good-natured joking show him as a strong-willed, positive person, and his views on the progress of the national struggle reveal him as a thoughtful patriot with a mind to the future of his country and all its inhabitants.