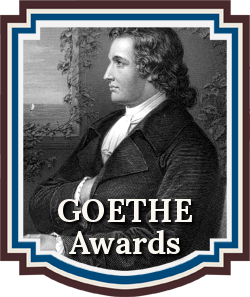 The following titles and their authors have made it past the initial "Slush-Pile Rounds" and will compete in the next rounds to see which titles will  be Short Listed for the 2017  Goethe Book Awards.
Congratulations to following 2017 Goethe post 1750s Historic Fiction Slushpile Survivors!
Blaine Beveridge – A Bit of Candy in Hard Times
Peter Curtis – The Dragontail Buttonhole
Michael T. Sheahan – Curse of MacSweeney Doe
PJ Devlin – Wissahickon Souls
Ellen Butler – The Brass Compass
John Hansen – Pursuit of Glory
Elizabeth Crowens – A Pocketful of Lodestones, Book Two in the Time Traveler Professor series
Gail Noble-Sanderson – The Passage Home to Meuse
Kristin Beck – The Rising Road
Sean Blair – The World We Forge
Michelle Rene – Hour Glass
Paul A. Barra – Murder in there Charleston Cathedral
Ron Singerton – A Cherry Blossom in Winter
J.R. Collins – The Boy Who Danced with Rabbits
Mark Fins – Imagine That
Joe Vitovec – Full Circle: A Refugee's Tale
Robert G. Makin – Dirt McGirtt
Elizabeth Crowens – Silent Meridian, Book One in the Time Traveler Professor series
Eleanor Tatum – Silver Cotton
Nick K. Adams – Away at War: A Civil War Story of the Family Left Behind 
Sean P. Mahoney – Fenian's Trace
Michelle Cox – A Ring of Truth
Barb Warner Deane – On The Homefront
Johnnie Bernhard – A Good Girl
 Peter Greene – Paladin's War
Michael Aloysius O'Reilly – Desertion
Jack Mayer – Before the Court of Heaven
Jessica Dainty – The Shape of the Atmosphere
Lucinda Brant – Deadly Peril: A Georgian Historical Mystery 
Caren Umbarger – The Passion of Marta
Helen Walsh Folsom – Kells: The Risin' of the Rebellion
Bruce Graham – Visitor from the Reich
Suzette Hollingsworth – Sherlock Holmes and the Chocolate Menace
L.L. Holt – Invictus
L.L. Holt – The Black Spaniard
Kalen Vaughan Johnson – Robbing the Pillars 
These titles are currently competing to be SHORTLISTED.
Good Luck to All!
We are accepting entries into the 2018 Goethe Book Awards for post 1750s Historical Fiction.
To compete in the 2018 Dante Rossetti Book Awards or for more information, please click here.
Chanticleer Book Reviews & Media, L.L.C. retains the right to not declare "default winners." Winning works are decided upon merit only. Please visit our Contest Details page for more information about our writing contest guidelines.
CBR's rigorous writing competition standards are why literary agencies seek out our winning manuscripts and self-published novels. Our high standards are also why our reviews are trusted among booksellers and book distributors.
Please do not hesitate to contact Info@ChantiReviews.com with any questions, concerns, or suggestions about CBR writing competitions. Your input and suggestions are important to us.
Thank you for your interest in Chanticleer Book Reviews International Writing Competitions and Book Awards.