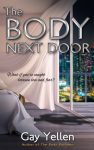 Publisher: GYDR Press (2016)
Buy the book now at:

Amazon
Author's Website
Samantha's lost practically everyone important in her life, her self-made career now lay in ruins, the romantic dream man she'd found had suddenly disappeared, and then, of course, there's also The Body Next Door.
As Samantha Newman ponders the steps to put her life back on track, murder and intrigue come knocking close to home. Now she'll need to follow her instincts and gather clues, like a child tracks a summer ice cream truck, and lick this mystery.
As the girl next door to the body, Samantha's intelligence, generosity, and engaging humor combine to delight all amateur sleuths reading along. First, she wants to help calm and soothe others living in the condominium. That leads to some interesting clues and suspects begin to surface. But with the police investigation in full swing, will Samantha and her mystery man/love interest be able to coax their relationship into full bloom? That's a lot to handle when your life is in tatters.
Readers will fall for Yellen's wonderfully light, conversational writing and fall for Samantha as she tells the story. Of course, she doesn't always come to the right conclusions, but she's a very honest spirit who always reaches out to do the right thing. Wherever Samantha goes, she goes with all her heart. While you can certainly dive right in with this second book in the Samantha Newman series, the recommendation is to start at the beginning with The Body Business because you won't want to miss any of Samantha's exciting adventures, and romantic entanglements.
Yellen creates dynamic and interesting characters, a skill, no doubt she honed as she gained her start as an actress in theater and film. Later she moved behind the camera as Assistant to the Director of Production at the American Film Institute. Her writing background comes as a former magazine editor and national journalism award winner, now an award-winning novelist. The best news is that she's currently working on the third book in this series.
A cozy mystery with exceptional heart. A satisfying read to curl up with this Fall.