Listen to or download this article: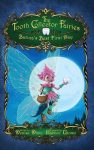 Publisher: Ditto Enterprises (2016)
Buy the book now at:

Amazon
Author's Website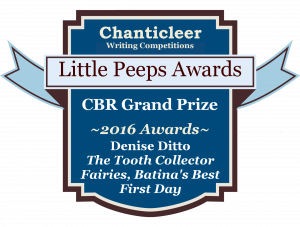 In Denise Ditto's The Tooth Collector Fairies: Batina's Best First Day, Batina wants one thing, to be the best Tooth Collector in all of Brushelot. Batina is a Tooth Fairy, and she can't wait to get her first collecting assignment. Unfortunately, her first day doesn't go quite as she planned. With her huge wings (three times the size of most of the fairies), she's clumsy and a little awkward, but Batina has a job to do, collecting well-brushed teeth which can be turned magically into the rainbow dust that gives all of the fairies the ability to fly.
Despite the sneers of Jolene, an unhappy fairy who isn't allowed to gather the precious teeth, Batina and her friends, Lulu and Lainey, can't wait to begin their tasks, and each of them hopes to win the Best First Day ribbon awarded by Crown Mistress Molar. However, gathering the teeth from under the pillows of sleeping children is only the first step. When Batina returns with her prized first tooth, she must find a way to help the Tooth Inspector with a sabotaged conveyor belt and to fix the Super-Duper Magic Dust-Making Machine, or her first day might be ruined.
Batina's story is one of determination and teamwork. Again and again, she must overcome her problems and celebrate her differences. Those huge wings often get in her way, but she remains undaunted. Instead, she finds a way to make the wings work in her favor. She also values the role of her friends and calls on them to help her solve the day's problems. She recognizes the importance of their individual talents and even finds a way to help Jolene the bully, stop being a bully, and be her friend. The positive message of working together and embracing diversity makes this early-level chapter book, illustrated by Gabhor Utomo, shine.
Young and not-so-young readers alike will be happy to learn that Batina's Best First Day is the first in the Tooth Collector Fairies series. There is more adventure waiting for all!
Author Denise Ditto not only loves writing children's books, but she is also the Executive Director at Houston Writers House, a position she shares with her business partner Rebecca Nolen, and is the former Director of the Houston Writers Guild. A graduate of the University of Houston-Downtown, she has also published an award-winning short story. She lives in Texas, her home state, with her husband.
The Tooth Collector Fairies: Batina's Best First Day won Grand Prize in CIBAs 2016 LITTLE PEEPS Awards for Children's Literature. Follow this link to the Chanticleer Review of the second book in the series, Home from Decay Valley.