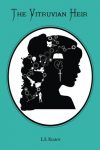 Publisher: Little Tree Press (2015)
Buy the book now at:

Amazon
Author's Website
It is the 23rd century. Eighteen-year-old Lorelei (Lore) Fetherston lives in Vitruvia. This area, once known as the United States, is under a monarchist regime that dictates Victorian and Edwardian principles, including the subordination of women on various levels. One issue that greatly affects Lore, is the custom of parents to arrange their children's nuptials. Lore is earmarked to marry Gideon, a man she does not love, in three weeks time. If she were to have her way, she'd marry Fallon, a man her parents have dismissed. Added to this, Lore's talent for writing is summarily squelched under the iron hammer of Vitruvian's laws against freedom of speech.
While trying to figure out how to escape her upcoming marriage, Lore becomes the recipient of her grandmother's tiny music box that contains information on Artemis Klepes. Meeting with the supposed crazed scientist, Lore receives from him a journal, which transforms into a suitcase filled with her grandmother's controversial book collection. Although the banned literature is nothing less than eye-opening, it doesn't change her current situation. Lore still must find a way to escape her arranged marriage.
Kilroy's futuristic realm, replete with a repressive quasi-Orwellian setting, is riddled with everything sinister. Among her mix of developed and elusive characters and creatures (i.e., yoctos, minuscule beasts; galateans, humanoids), Kilroy keeps readers wondering who can be trusted.
While punctuating her narrative with cruel and brutal scenes, Kilroy weaves in Lore's gift for story writing. Amid oppressive situations, Lore collects the personal accounts of repressed women—stories she hopes one day will be made known to the world. It is in the shaping of this heroine as a lover of humankind that makes Lore such a unique and appealing character.
A natural storyteller, Kilroy engages her audience on a deeper reading level from the get-go through inferencing. This powerful tool enables readers the opportunity to create the necessary puzzle pieces that will aid in completing the plot.
Balancing familiar with unexpected description and a smooth narrative voice, this is a Y/A classic in the making and has the power to develop a loyal readership.