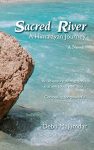 Publisher: Bo-Tree House (2016)
Buy the book now at:

Amazon
Author's Website
A tour de force of India's history, religion, culture, philosophy, anthropology, sociology, and politics are neatly packaged as a mystery, await the lucky readers of Debu Majumdar's latest novel, Sacred River: A Himalayan Journey. All elements of this foundational novel are experienced through a well-developed cast of characters, wealthy and poor, educated and illiterate, as they make pilgrimages to the source of Ganges River.
The River itself is a character in that it exerts the greatest influence on those who travel to its origin in the Himalayan mountains. In its waters, truths are revealed, and those who ponder its depths must acknowledge how they have lived their lives. The Ganges is the great equalizer; she washes the indigent and the affluent alike. Characters learn that money cannot buy enlightenment, and those who have lived the simplest lives may be much further down the spiritual path than those who've had every material advantage.
Majumdar does a splendid job of giving each character a complete history before individual plots merge into a full and rich narrative. It's as if he has taken tributaries of a river and studied their routes before entwining them with the flow, force, and beauty of a majestic river. From bonded servant to landed gentry, foreigner to outcast, all will be deeply affected by their journeys.
This is the set up to a fascinating mystery. It unfolds as the reader learns about the SMS, the Sarva Mangal Society, a philanthropic organization that advocates education for all Indians and the removal of social barriers. Its staff believes that implementing the ancient ideals of India will lay the foundation for a new society, one in which the constant injustices done to the poor will finally halt. Its chief financial officer, Sevanathan Chetti, despairs, however, as to whether enough funds can be raised to continue its important work. He and his associate wonder where the wealth of India has gone. As speculation of a golden hoard hidden in the sacred temples arises, Chetti and his associate scheme to locate and plunder treasure for a noble cause.
An engrossing and tense subplot unfurls, one that will ensnare a temple swami along with some of the pilgrims to the Ganges. This adventure, which culminates in an enormously suspenseful climax, is an effective counterpoint to the serene and meditative aspects of the novel.
Majumdar's prose is rich and spectacularly vivid. Locations are very important in this novel, and his descriptive writing is superb. Readers will feel they are in a marketplace, on the side of the mountain, in a temple, and bathed in light and water. Especially lovely are the passages noting religious rituals and the spiritual significance of the Ganges. The author weaves in Indian legends and morality stories, artfully juxtaposing parallels between ancient tales and his characters' modern lives. There's such a breadth of consideration for every aspect of Indian culture that it's easy to imagine this novel being included on college syllabi for classes related to Hinduism.
This book is a must-read for anyone with interest in Indian life and culture. Indeed, the author joyfully admits that one could read the book as a travelogue, and we agree! When readers finish this novel, we predict they will experience a deep longing to journey to the Himalayas to see "the maiden in the mountains," that most sacred river, the Ganges.
***
"Money cannot buy enlightenment, but for those who struggle to reclaim one nation's equality, gold is the currency that will drive two overzealous men on a journey to uncover hidden treasure for the benefit of all. A rich and spectacularly vivid, multi-faceted literary mystery for seekers and skeptics alike."  – Chanticleer Reviews