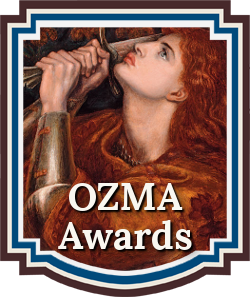 The OZMA Book Awards recognize emerging new talent and outstanding works of Fantasy, the Supernatural, Fantastical/ Legendary/Mythical Beings, Magical Systems, Steampunk, or other inventions of fiction. The OZMA Book Awards is a division of the Chanticleer Reviews International Book Awards.
The following titles will compete for the FIRST IN CATEGORY Positions and Book Awards Packages for the 2017 OZMA Book Awards for Fantasy Fiction.
Congratulations to all those who made the SHORT LIST!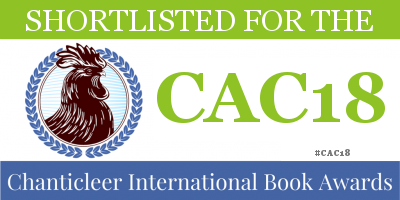 The Finalists Authors and Titles of Works that have made it to the highly competitive Short-List (aka The Semi-Finalists) of the OZMA 2017 Book Awards are:
Good Luck to All! 
Matt Schatt – The Order of Jude
Sarah M. Morin – Eva's Soul
Karin Rita Gastreich – Daughter of Aithne
John W. Lord – In Her World: The Dark-Winter War
Reilly Michaels – War of the World Makers
Justine Avery – The One Apart: A Novel
S.D. Reeves – Curses of Scale
Murray Lee Eiland Jr – The Raid on Troy (The Orfeo Saga Book 7) 
Wendi Whitsett – Id of Elle: the Artifact of Longing
Elizabeth Crowens – Silent Meridian, Book 1 in the Time Traveler Professor series-2nd edition
M. K. Wiseman – The Bookminder
Franklin Posner – Suburban Vampire: A Tale of the Human Condition – With Vampires
Laurel Anne Hill – The Engine Woman's Light
J.R.R.R. Hardison – Fish Wielder
Taylor Fenner – CurseBreaker: An East O' The Sun and West O' The Moon Retelling
Michael J. Denham – Spirit Lake / Luna Lake
E. Merwin – The Northman's Daughter
Alisse Lee Goldenberg – City of Arches
Elizabeth Crowens – A Pocketful of Lodestones, Book 2 in the Time Traveler Professor series
T.K. Riggins – How To Set The World On Fire
Alex R. Kahler – Runebinder
L. N. Passmore – Wayward Wulves Beware
Aaron and David Swartz – Absolute 
Aaron and David Swartz – Breaking Illusions
The 2017 OZMA Short Listers will compete for the Rossetti First-In-Category Positions.  First Place Category Award winners will automatically be entered into the OZMA GRAND PRIZE AWARD competition.  The CBR Grand Prize Genre Winners will compete for the CBR Overall Grand Prize for Best Book.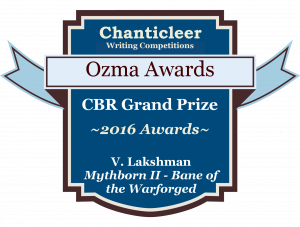 All Short Listers will receive high visibility along with special badges to wear during the Chanticleer Authors Conference and Awards Gala.

As always, please do not hesitate to contact us with any questions, concerns, or suggestions at Info@ChantiReviews.com. 

Congratulations to the Short Listers in this fiercely competitive contest! 
Good Luck to each of you as each one of your works competes for the OZMA Awards  First Class Category Positions. 
The OZMA Grand Prize Winner and the  First Place Category Position award winners along with all Short Listers in attendance will be announced at the April 21st, 2018 Chanticleer Book Awards Annual Awards Gala, which takes place at the Chanticleer Authors Conference that will be held in Bellingham, Wash.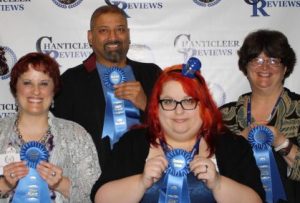 To compete in the 2018 OZMA Book Awards or for more information, please click here.
Chanticleer Book Reviews & Media, L.L.C. retains the right to not declare "default winners." Winning works are decided upon merit only. Please visit our Contest Details page for more information about our writing contest guidelines.
CBR's rigorous writing competition standards are why literary agencies seek out our winning manuscripts and self-published novels. Our high standards are also why our reviews are trusted among booksellers and book distributors.
Please do not hesitate to contact Info@ChantiReviews.com with any questions, concerns, or suggestions about CBR writing competitions. Your input and suggestions are important to us.
Thank you for your interest in Chanticleer Book Reviews International Writing Competitions and Book Awards.