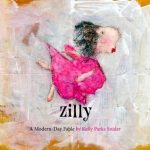 Publisher: GoatHouse Press (2012)
Buy the book now at:

Amazon
Author's Website
Children's books fall into many categories: picture books, early readers, books that teach the alphabet, colors etc. Zilly is a message book, presented with a poignant story, engaging artwork, and timely message.
Zilly is an "out of the ordinary flyer" whose bumpy, flip-flop flying style garners criticism from the other flyers. It doesn't help that her best friend who is always on the scene to offer support and encouragement, happens to be a goat named Mingle.
When Zilly sees a large billboard that announces, "flying lessons for flyers who want to fit in" Zilly wants to try out. But this will require her to change from her free-spirited flips, zips, and bumpiness. The billboard also says: "no goats allowed."
Zilly falls for the message that she needs to conform to be beautiful like the other flyers and even snubs Mingle in order to fit in. But, on the day of her try-outs, she doesn't measure up and Zilly is ready to hide away until she hears the voice of her best friend cheering for her.
In Zilly, Parks Snider presents a positive message of being yourself when our society, through constant media messaging and peer pressure, attempts to get young people to be anything but themselves. Zilly has a timely theme and comes with discussion questions that children will benefit considering – some questions may have to be modified for younger children.
Kelly Parks Snider has created a colorful, thoughtful book that has the power to teach children of all ages that most important lesson we all need to learn: being yourself is good enough. The artwork in it is mixed media, with visual textures and eye-catching colors that will catch – and keep – readers' attention. Parks Snider adds that her decision to create the book "… on old paper bags – allow[s] for additional discussions about creativity, re-purposing stuff and that being creative and innovative doesn't have to be expensive."
Kelly Parks Snider is passionate about this message and channeled her passion and artistic vision into a wonderful project called the Project Girl workshops in Madison, Wisconsin, aimed at tween and early teen girls. The workshops combined art, media awareness, and activism. It culminated in The Project Girl Exhibition which was accompanied by the publication of The Project Girl Workbook-A Guide to Un-Mediafying Your Life. which includes art and stories from Snider and artwork from some of the workshop participants whose works were in the exhibition.
Find out more about this 2012 initiative and follow the author at projectgirl.org, www.zillybooks.com, and www.kellyparkssnider.com