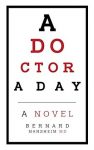 Publisher: Sillian Pace Brown (2017)
Buy the book now at:

Amazon
A behind-the-scenes look at the life of a medical doctor, from med school to internship to private practice to the courtroom and beyond.
Dr. Luke James is in private practice. He has a loving wife and young daughter, and in some ways, his work brings joy and affirmation.  But when he started his long journey through the healing profession, he knew there would be times when all his efforts would end in the loss of a patient. As this intensely emotional story opens, Dr. James is in court, defending himself in a malpractice suit in which, as the prosecutor accuses, "You let your patient die." Told in flashbacks, we see how the lawsuit is calling into question many of the ideals the physician once cherished. He recalls crucial incidents from his fraught, exhausting, sometimes depressing, sometimes uplifting days of doctoring, the many times when his judgment might have prevented — or resulted in — the death of a patient in critical condition.
As he watches patients die, their last moments provide a profound reminder of the swiftness of death—" like flipping off a switch." Yet Dr. James will continue to offer words of comfort and try daring remedies. Once he even donated his own blood in hope of a miracle cure for one of his patents. He thinks that the practice of medicine is an art and a craft that must be honed and believes that even the science of medicine inexorably dictates its own terms. As he remembers his work life in all its complex aspects, Dr. James ponders his decision for the patient whose demise is the focus of the malpractice trial. Was he "playing God?" Did he rob the patient of her right to a longer life, even though that would have been a life of an unconscious mind and a body riddled with tubes, unhealable wounds, and deterioration?
Author, and former practicing physician, Bernard Mansheim has fictionalized the duties and dichotomies of his own experience as a doctor so starkly that there can be no doubt of his deep connection to the questions posed and the answers sought by Luke James. Mansheim started his education with a BA in English Literature, and there is also no doubt of his ability to compose a gripping saga that tears away any blinders we might have had about the glamour of a doctor's life.
At one point, Mansheim's hero realizes he can't allow himself to cry and begins to build an inner wall to hide some of his worst fears and sorrows, creating a backlog of unexamined depression. In an author's note, Mansheim states that the suicide rate among doctors is 50% greater than that of the general population. It is known that a doctor a day commits suicide. This dismal trend has followed since 1858. His story boldly reveals some possible reasons for that grim statistic, while leaving room for hope for his embattled protagonist and others like him. This novel lays the foundation for discourse about this public health crisis and may be one of the most important books that you could read this year.