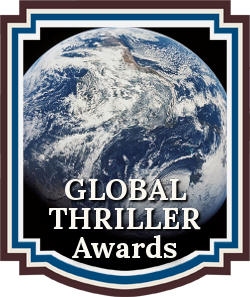 The GLOBAL THRILLERS Book Awards recognizes emerging new talent and outstanding works in the genre of  Lab Lit and Global Thrillers. The GLOBAL  THRILLERS Book Awards is a division of Chanticleer International Novel Book Awards and Writing Competitions.
 
Chanticleer Book Reviews is looking for the best books featuring suspense, thrilling stories that put the balance of world power or that will end the world as we know it. We include with Global Thrillers the Lab Lit genre. Lab Lit is when Fiction Meets Real Science and Research or stories that are based on real science and research up to a certain "what if" point.
2017 is the first year that we offered the Global Thriller Book Awards and we are honored to announce the very first authors whose works have made the 2017 GLOBAL THRILLERS Book Awards!  
Examples from www.LabLit.com:
Enigma by Robert Harris; A brilliant mathematician struggles to crack German codes in the second world war. Historical Fiction
The Highest Tide by Jim Lynch; A budding marine biologist has an unforgettable summer.
Arrowsmith by Sinclair Lewis; A scientist/medic leans the hard way that pure research is nobler – and cures plague in the process.
GLOBAL Thriller examples:
Best examples of these are James Bond books, X-Men, Tom Clancy novels, and Star Wars/Star Trek where humankind is at stake or the planet is doomed.
(For light-hearted, cozy, or classic Mystery and Suspense entries see our Mystery & Mayhem Awards and for Thriller/Suspense/Hardboiled-Detective series, please see the CLUE Awards)
More than $30,000.00 dollars worth of cash and prizes will be awarded to Chanticleer Book Reviews 2017 writing competition winners at the Chanticleer Authors Conference April 21st, 2018!
This is the Official announcement of the Authors and Titles of Works that have been SHORT-LISTED for the GLOBAL THRILLERS  2017 Book Awards. These titles will now compete for the First In Category positions.
Amy Rogers – The Han Agent
Denis Lipman – Striking Terror
Mario Loomis, MD – Essence
John Yarrow – The Recombinant Theory
John D Trudel – Raven's Redemption
Lou Dischler – Off Road to Armageddon 
K.V. Scruggs – What They Don't Know
Sara Stamey – The Ariadne Connection
Daniel Elliott – The Kingmaker
Dean De Servienti – Quantum – The Trilogy Begins 
James Tacy Cozad – Stormfront
Avanti Centrae – VanOps – The Lost Power
Lawrence Verigin – Seed of Control
Lee Burvine – The Kafir Project
Richard Gargulinski – Magenta is Missing
Good Luck to all of the 2017 GLOBAL THRILLERS Short-Listers as they compete for the First Place Category positions.
First In Category announcements will be made at the Awards Ceremony. The GLOBAL THRILLERS Grand Prize Winner and First Place Category Winners will be announced at the April 21st,  2018 Chanticleer Writing Contests Annual Awards Gala, at the Chanticleer Authors Conference that will be held in Bellingham, Wash.